Invoice Financing In This Brutal Small Business Depression
In this article we will discuss whether Populous may be ready to overcome many of their past problems. Let's see if if we can answer "Is Populous Ready To Pop? Specifically we'll cover:
(1) What is Populous and how can their business benefit from small business cash flow problems.
(2) What the charts look like from a Technical standpoint
(3) As previously discussed we look for positive divergences and we'll will highlight the enormous positive divergence on PPT/USD.
What Is Invoice Financing And What Does Populous Provide
Let's first discuss what Populous does and how this solves a problem for small businesses. Taken directly from Populous.World website:
" Invoice Finance is a form of funding that instantly unlocks the cash tied up in outstanding sales invoices. Business owners allow invoice buyers to buy invoices at a discounted rate in order to unlock their cash quicker. Once invoices are paid by the invoice debtor, the invoice buyer receives the amount previously agreed upon. Perhaps your business faces Long payment cycles with your customers, or maybe your business is growing too fast and you need to collect cash quicker than customers will pay you to sustain. If this is something your business is experiencing, invoice financing could be the best funding solution for your business due to its flexibility and ability to unlock cash, fast."
Typically, Invoice Financing is useful for distressed businesses that need to turnover their cash flow quickly. The business is willing to give up a certain percentage of the invoiced payment to get cash flow now. In the current environment where small businesses are on the brink of bankruptcy or are seeing business cut in half if not more then a quicker turnover of cash (despite giving away a percentage of the invoice to a buyer) is a viable strategy. Populous provides an auction market where buyers bid on invoices at a discount and seller's list their invoices to receive those bids to sell to.
So now that you know what Populous provides to sellers and buyers and you already know we are in one of the toughest business environments ever let's see what the charts look like.
What Does The Chart Say About Populous?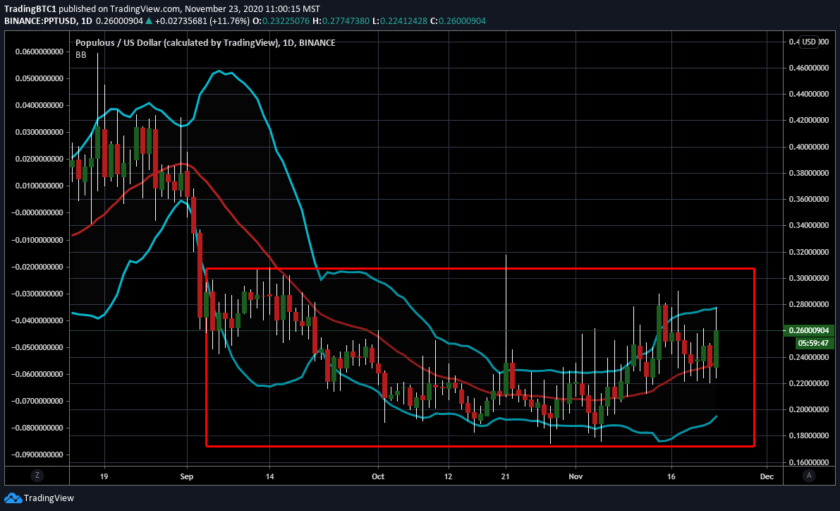 Here is a chart from late August to present and you can see the sideways trading range highlighted in the red triangle. The Bollinger Bands have not really shown much in terms of direction yet but what you can see is 20 Day Moving Average inside the Bollinger Band is providing support for price. Price has stayed above the 20 DMA for 18 straight days. Inside the red rectangle if you split the rectangle in half you can see that on the left side there are a series of lower highs and lower lows. Looking at the right side of the rectangle you can see the pattern switch to higher highs and higher lows. This pattern of higher highs and higher lows is a requirement for price to move higher after a decline has occurred. So we know price has moved sideways in the rectangle and price has been above the 20 DMA for 18 straight days and now we have a series of higher lows and higher highs. So far so good but what is our Oscillator saying about price?
We Always Want To Stack The Odds In Our Favor But We Need A Sign
We have discussed in our previous articles that we view trading as trying to stack the odds in our favor before we enter a trade. This provides a rational reason for entering a trade and not just a straight out gamble. Our Oscillator is what we use to try to stack the odds in our favor before we enter a trade. Let's see what the Oscillator is showing today.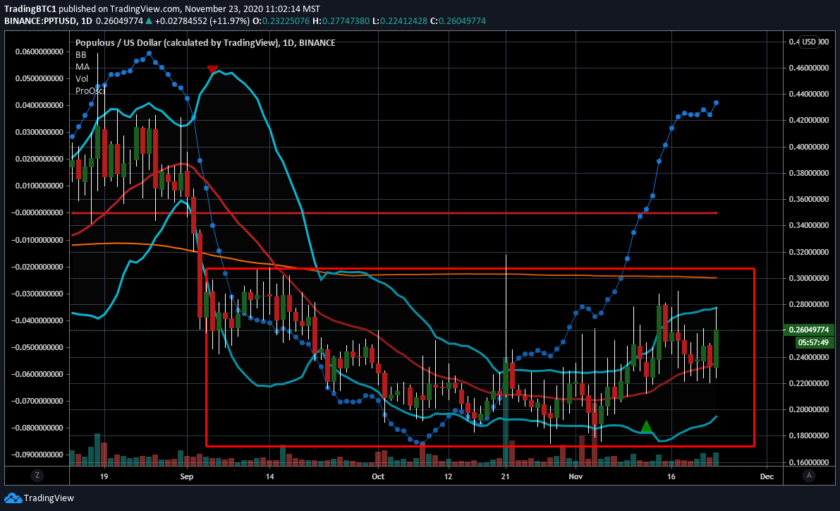 When we look at the Oscillator on top of the price chart we can notice a few things. First, what stands out the most is that the Oscillator starting shooting up at the beginning of November. It crossed above the Red Line (zero line) and once it crossed above the zero line you see price pulled back from $.28 to $.22. This is perfectly normal and that is our first sign that price may be on the verge of changing direction. The second thing to notice is that even though price is currently lower than the price in mid November the Oscillator is still rising. This means that momentum is rising despite price pulling back and that is a positive divergence. Usually this means that accumulation is occurring behind the scenes and when some type of event occurs the price will follow the Oscillator.
Let's Take A Look At What Happened Last Time The Oscillator Moved Up
We are keying in on the two red rectangles showing the last time the Oscillator crossed up above the zero line like it has recently. Price went from $.25 to above $.50 back in April of 2020 and in August of 2020 (red rectangle not shown) price went from $.33 up to $.45. As we've stated before once you enter a trade you really don't know how far price can rise (or fall for that matter) but the initial price target we see for a present move would be to $.38 to $.50 cents. That is a pretty decent reward with downside risk to about $.22. Thanks for Listening!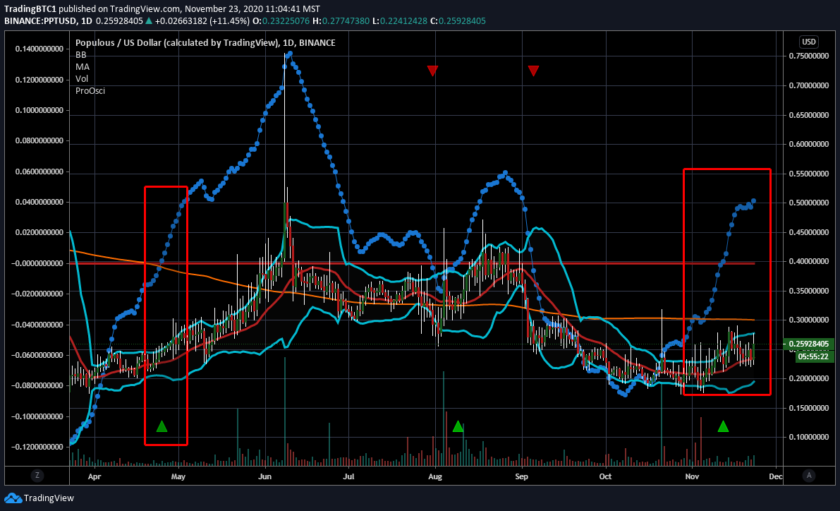 If you haven't read our recent article Click Here: