How To Spot A Trade In OMG Network Before Other Traders/Investors
On June 1, 2020 Omisego was rebranded to OMG Network so from here on out we will refer to OMG Network although the charts below will still show Omisego. You can read about their rebranding on their website here: Let's look into why we believe OMG Network Looks Ready For A Breakout.
In this article we will discuss the following:
My overall technical viewpoint on the chart
My oscillator Buy signal and what that means to price
A projected target price based on resistance overhead
How To Spot A Trade Before The Price Moves
Let's start with a chart of price using just candlesticks, bollinger bands and a 200 Day Moving Average. We are looking at a chart from September 2020 to present and you can see that price has been consolidating (going sideways) for a few months now as highlighted in the red rectangle. Price is above the 200 DMA which is bullish for OMG Network. The Bollinger Bands (blue lines) are also moving sideways but not signaling much more other than low volatility the last few months. The other side of low volatility will bring high volatility so a price chart of anything going sideways is something we look for that can put the odds in our favor of making money. So from chart #1 we can say that OMG/USD is bullish due to price being above the 200 DMA and that volatility has been low and the other side of low volatility is high volatility. Let's look at chart #2 to see how we can increase the odds of being right to enter a trade.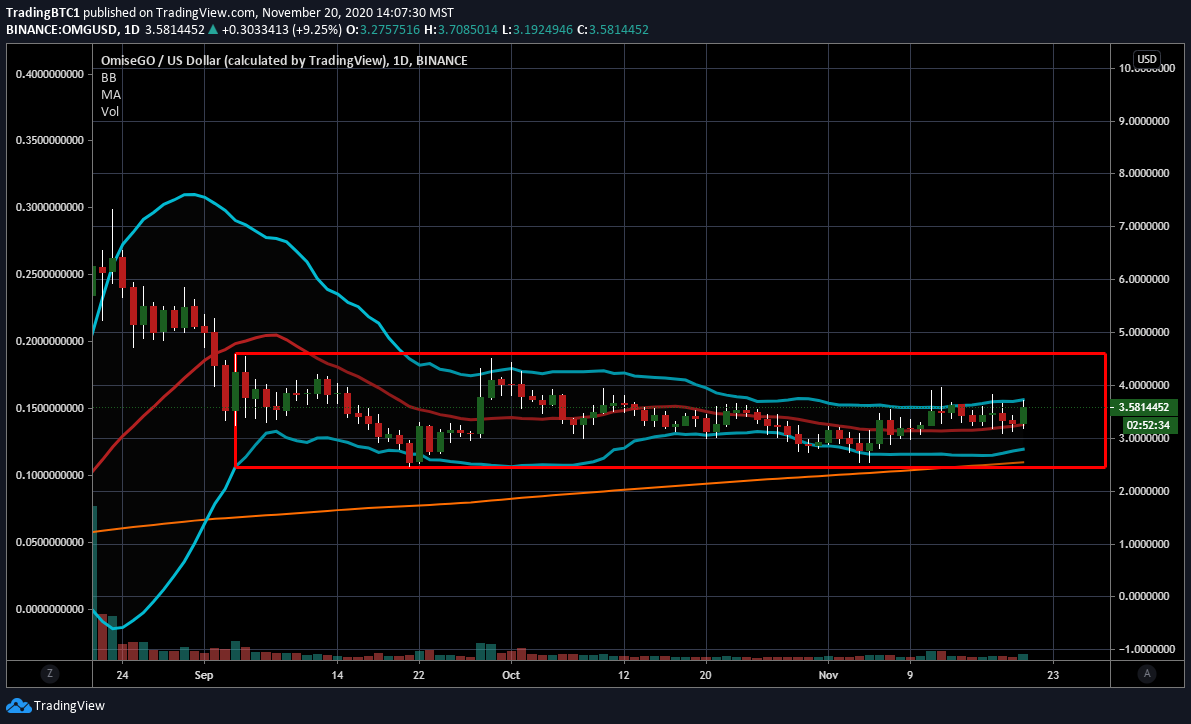 Stacking The Odds In Your Favor Is Reducing Your Risk Before You Enter The Trade
We use our own proprietary oscillator (Blue Dots) to confirm whether price is ready to move up or down. There are a few things to realize from this chart when we add our oscillator to the chart. The first is that in August/September our oscillator was in the extreme overbought range at the top of the chart and you can see price coming down into the latter half of September. You should also notice that the oscillator went down below the red line giving a sell signal on Nov 2nd. However, price is still within the sideways pattern since September and has not broken below the trading range. Lastly, you should notice that the Oscillator had crossed back above the zero line and gave a buy signal on November 11th. The conclusion we can draw from this is that while momentum had been cooling off since August/September the buyers have shown up to keep price within the sideways consolidation range. So from the chart we can see that price is above the 200 DMA which is bullish. The Bollinger Bands have been going sideways (low volatility) but price has stayed within the range for a few months. The Oscillator gave a sell signal and price did not go down and now the Oscillator has now crossed back above on Nov 11th and the Oscillator is starting to move back up.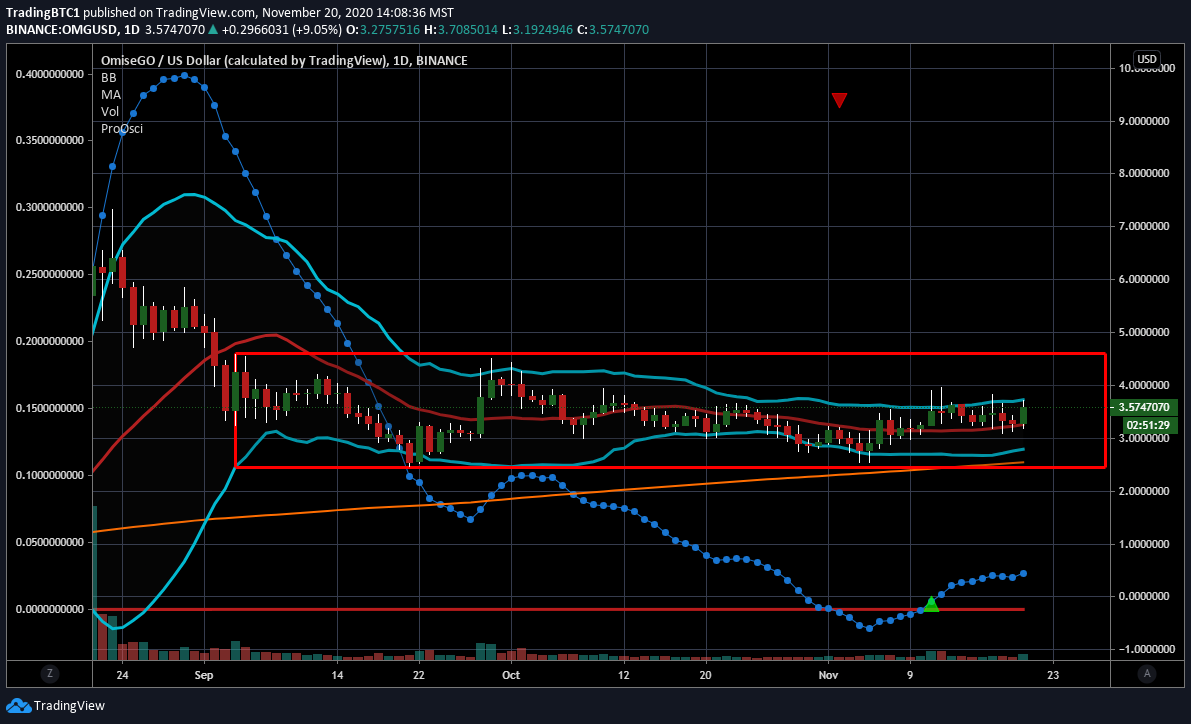 How Do We Determine What The Return And Risk Can Be On A Trade?
If we widen out the chart to cover August 2020 to now then we can see where the majority of traders are either losing money or making money. For example, the traders/investors that bought before September 1st and after Mid August are losing money. In trading terms this means that resistance will be in the price range of where those traders/investors bought their OMG. So we can say that if a trade is entered now at $3.50 and if we are correct that price is ready to break to the upside then the upside would be into the $5-$5.50 range. That would amount to a 40-60% move higher.
If we are wrong and price moves down then the downside risk would be in the $2.50 range as that is where the recent buyers have stepped in to buy OMG Network. So now we have price above the 200 DMA with a sideways Bollinger Band, price within a trading range since September and the Oscillator crossing above the zero line and moving higher. We know the upside price in the short term is $5-$5.50 and downside is roughly $2.50 where we would sell out. Let's take a look at one more chart so that we can really hit home why we think OMG Network is ready for a break out to the upside.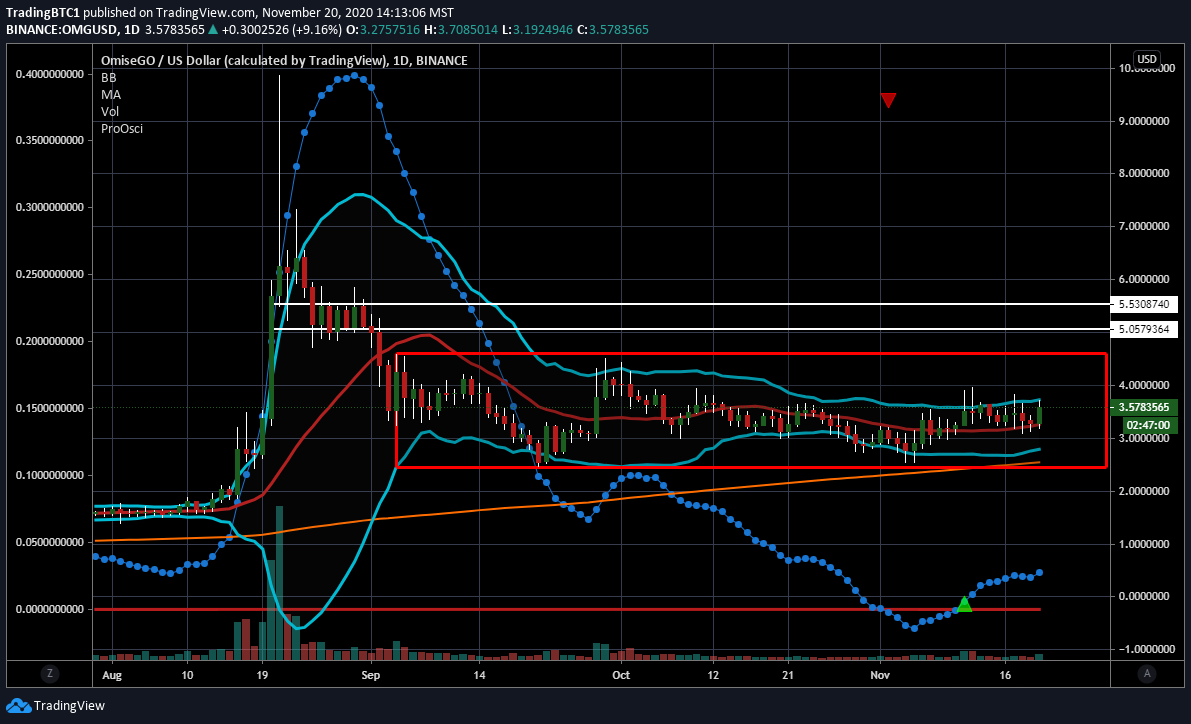 Stacking The Odds In Your Favor Is Just Part Of The Process As You Never Know What's On The Other Side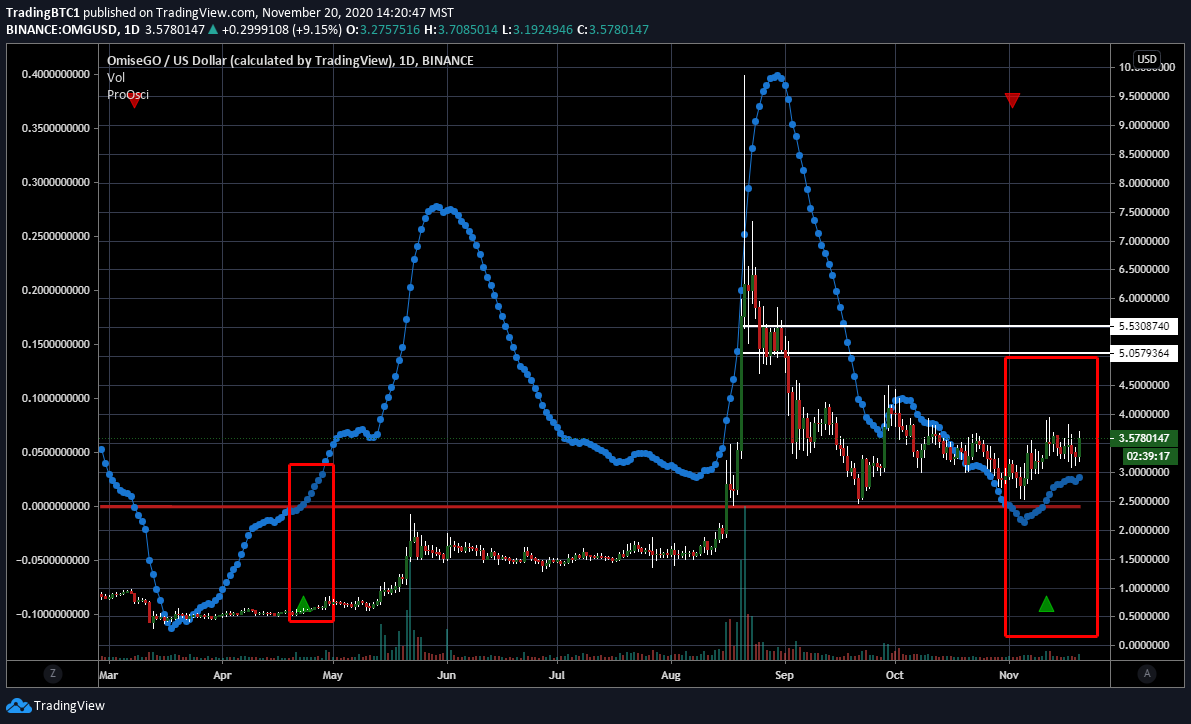 This chart could get a bit confusing so I want to keep this as simple as possible. What we are highlighting here is just a focus on the Oscillator. You can see that back on April 23rd the Oscillator crossed above the zero line and gave a Buy signal at roughly $.63 cents. Yes, that was $.63 cents and ultimately price rose to above $7 dollars. No one has an idea of how high or low a price can go after you enter a trade or investment. The key is you need to have a reason for entering the trade/investment before you enter one. In the case of OMG Network (OMG/USD) price is above the 200 DMA, Bollinger Bands have been moving sideways (low volatility), and the Oscillator has given a Buy Signal. If we are correct the volatility is on the verge of increasing and price is starting to gain momentum to the upside then we have plenty of reason to expect OMG Network to break out to the upside. Thanks for listening.
Please Do Your Own Due Diligence!