Losses are steep in EOS and this is partly because of block producer centralization claims and the uncertainty around Dan Larimer commitment. But while we expect bears to slow down, Tron is stable and up 22 percent in the last week. In fact, it could break and close above 1.5 cents main resistance line igniting buyers aiming at 3 cents.
EOS Price Analysis
The EOSIO network might be one of the fastest smart contracting platforms around but with a DPoS consensus algorithm introducing block producers or super nodes, the networks representatives now has to defend the blockchain from centralization criticism.
It's now getting worse as Dan Larimer plan to "explore" and create another cryptocurrency. Further news indicate that Starteos—a block producer, will share their rewards with users who vote in their favor.
StartEOS is vote buying, sharing their block rewards to EOS tokens holders that vote for them. Let's see how long it takes for them to drop out of top 21? Vote decay takes a bit but already we can see their rank dropping since news starting coming out #3 https://t.co/wtxsCfkIsW pic.twitter.com/EHQMvY7IPu

— Token State (Tokenize the World) (@tokenstate) December 4, 2018
Read: EOS Centralization Woes Return as Block Producer Offers Money for Votes
Price wise and EOS slide to $1.5 would be faster more so if bears keep up with yesterday's six percent losses. This was expected and as long as EOS/USD is stuck below $4 then we recommend trading in line with our previous trade plans, unloading EOS on every pull back. Thereafter we shall fade this plan once there are solid gains above $3.5—a level of importance in our analysis.
Litecoin (LTC) Price Analysis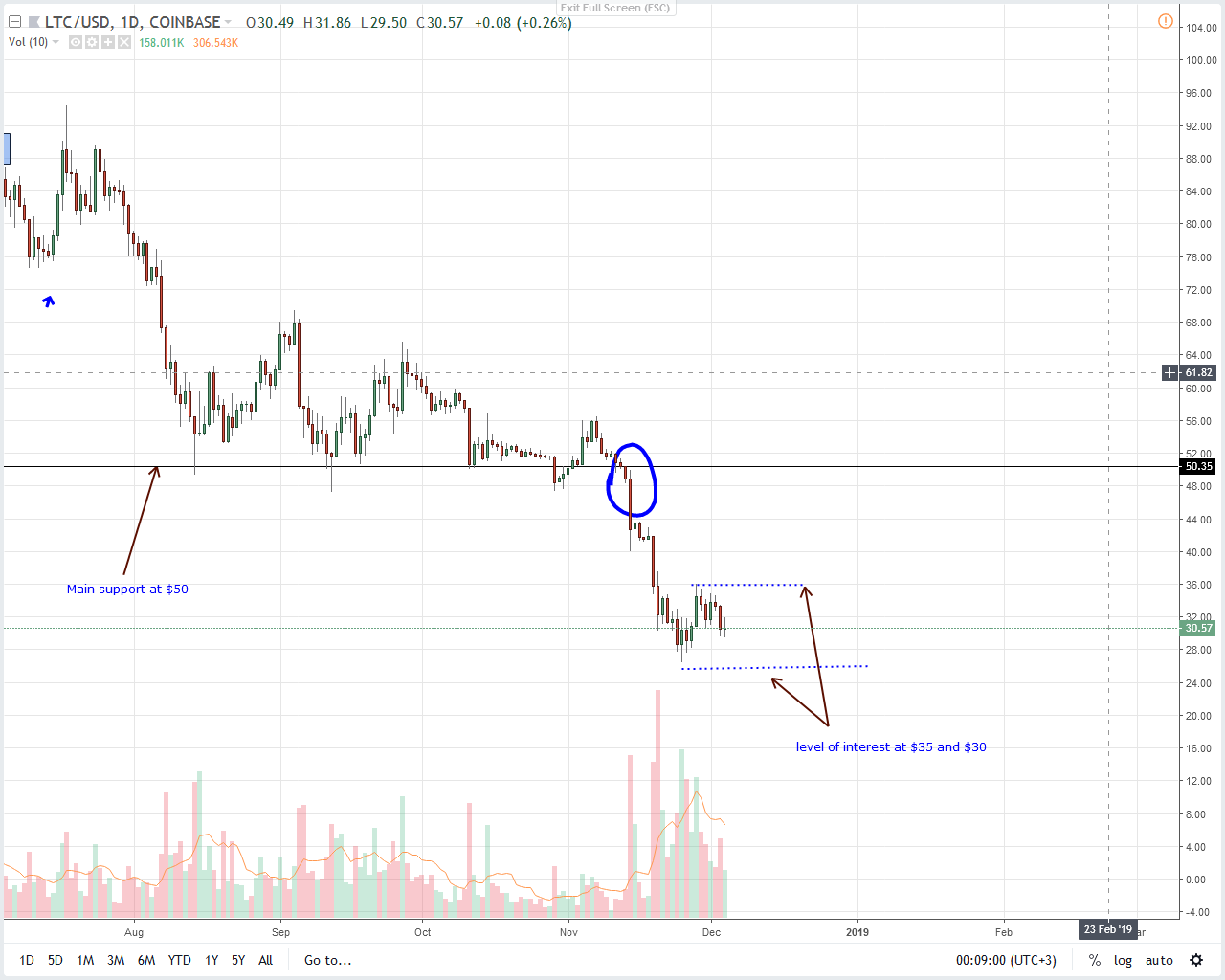 Thing is, sellers have an upper hand and though LTC/USD is now trading 90 percent from their 2017 peaks, we expect prices to find support as long as LTC is trading above $30.
At the moment, our previous trade plan is valid and before we recommend buys, we suggest patience until after there is convincing evidence of bulls involvement once there is a clear break and close above Nov 25 highs at $35.
Also Read: CoinBase and PayPal – A Match Made in Crypto Heaven?
Once this prints, then it could be an impetus for bulls to rally towards $50—our main resistance level as LTC/USD buyers bid to reverse 2018 losses.
Stellar Lumens (XLM) Price Analysis
Calgary's NDAX is now the first Canadian exchange to avail the XLM/CAD pair.
NDAX has launched an XLM/CAD pairing. NDAX is making it easier for Canadians to diversify their cryptocurrency investments by being a leader in listing new Crypto/CAD pairings.#CryptoNews #cryptocanada #CAD $XLM $XRP $BTChttps://t.co/cN7LWS9OPd

— NDAX (@ndaxio) December 4, 2018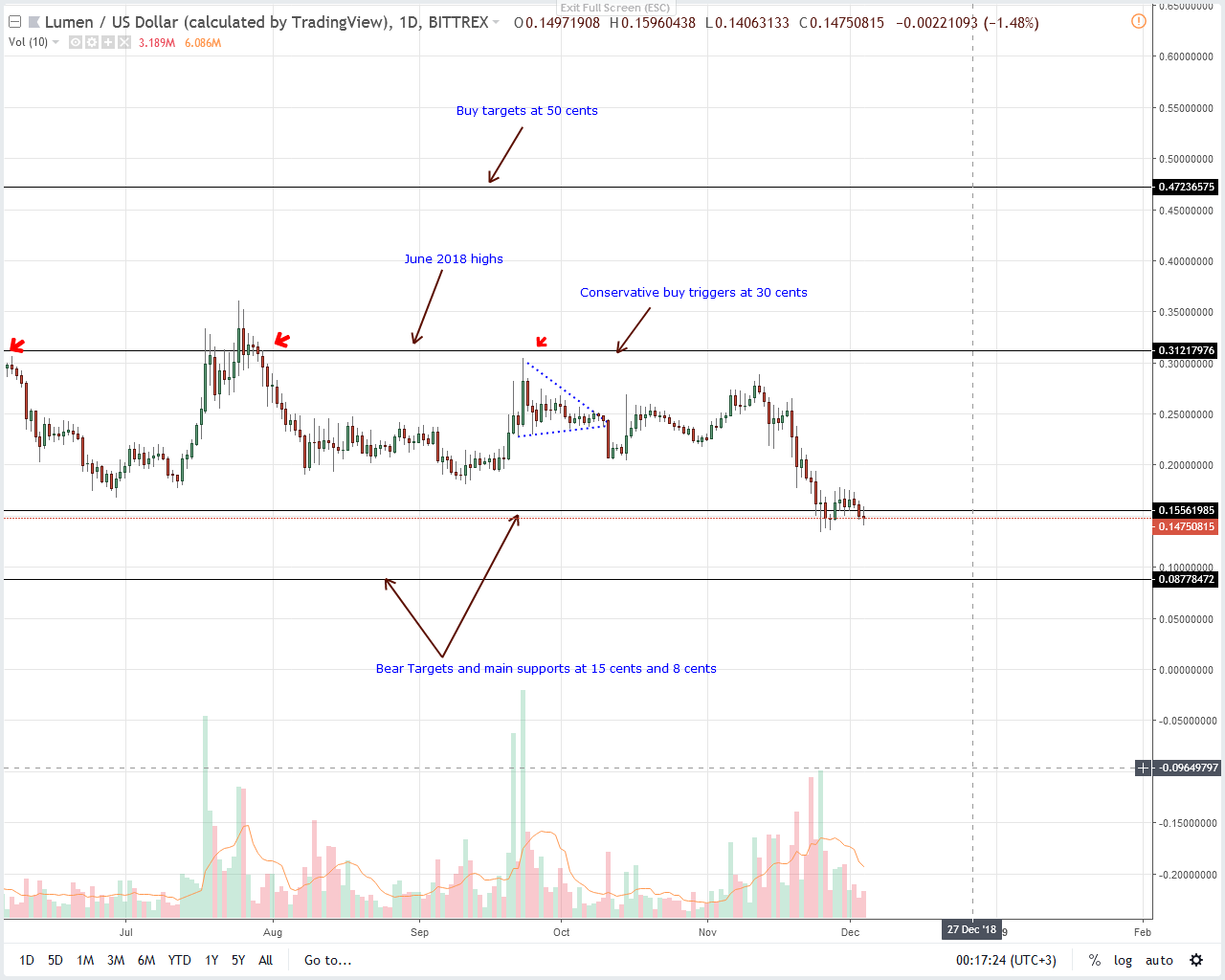 Even with this, XLM is struggling against sellers finding caps at around 20 cents and further losses that will see prices sink below Nov 2018 lows automatically invalidates our previous XLM/USD price analysis. Like before, if there are declines below 15 cents confirming Nov24 losses then Lumens might test 7 cents or May 2017 highs by the end of the year.
This may print if bulls fail to penetrate 25 cents endorsing the bear break out meltdown of week ending Nov 25.
Cardano (ADA) Price Analysis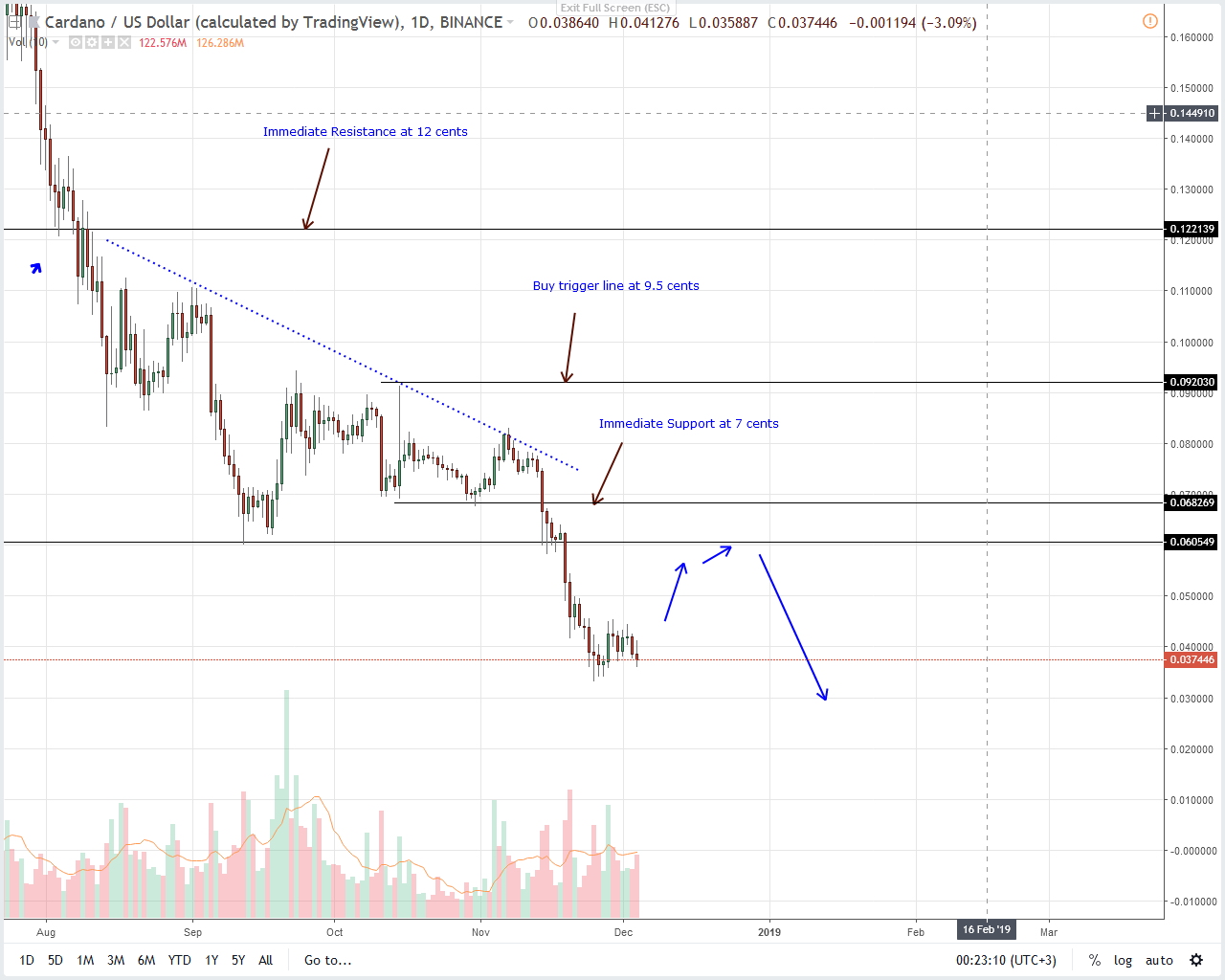 Perched at 10th, ADA/USD is one of the top performers in the top 10 adding five percent in the last week. This may appear positive but ADA is this year's worst performers as bears have so far erased 2017 gains.
What's worse is that we might end up registering new 2018 lows more so if there are drops below Nov 25 lows at 3.3 cents as bears deflate our bullish outlook cancelling the Morning Star in the pattern.
Like in previous ADA/USD trade plans, we suggest taking a neutral but bearish stand, buying ADA once there are high-volume bars closing above 4.5 cents. This shall trigger a wave of aggressive buyers aiming at 6 cents and later 9.5 cents as per our previous iterations.
Tron (TRX) Price Analysis
TRX is up 22 percent in the last week and as TRX/USD find support, we might see the cancellation of the bear breakout pattern set in motion by Nov 19-20 break below.
Ideally, we would like to see a spike in trading volumes accompanying any surge above 1.5 cents in line with our last TRX/USD trade plan.
In that case, our first target will be at 3 cents with a safe stop at the lows of the breakout bar.
All Charts Courtesy of Trading View
Disclaimer: Views and opinions expressed are those of the author and aren't investment advice. Trading of any form involves risk and so do your due diligence before making a trading decision.


Author: Dalmas Ngetich

Source link