Latest Bitcoin News
It is now official:  NASDAQ, the world's second largest stock exchange will launch their Bitcoin Futures version by Q1 2019. This comes after days speculations after rumors began doing round that sources privy with development inside the exchange were confident that of the listing come next year.
While confirming, Vice President of NASDAQ's media team Joseph Christinat said the team has put in a lot of effort to make it academic and they knew about Bitcoin and blockchain technology back in 2013. They have since funneled a lot of money towards making this a reality.
Read: Argo Blockchain Sees 146% Increase in Crypto Mining Package Sales
As they wait the approval from the US CFTC, Christinat reaffirmed that they shall execute their plan "no matter what" and the exchange is not concerned about dropping Bitcoin prices.
Nasdaq listing pave the way for Bitcoin's mainstream future.

Bitcoin Futures will be listed and it should launch in the first half of next year.

Once Bitcoin is listed on Nasdaq's boards, there'll be no stopping the march towards cryptocurrency as the future of finance. ?

— rallyqt (@rallyqt) December 3, 2018
Of course, this goes on to show the level of acceptance and acknowledgement by institutions that Bitcoin and similar cryptocurrencies are here to stay. Therefore, the only sector that should feel the reverberation is the banking sector which now faces stiff competition from cheap, censor resistant and transparent blockchain cross border solutions.
Also Read: South Korea Reveals Plan to Tax ICOs and Cryptocurrencies
If anything, this is the kind of positive news the market needs as BTC prices struggle against sellers, approval from CFTC might breed confidence that regulators including the SEC now have a different perspective on Bitcoin and that the SEC might approve any of the five Bitcoin ETF proposals laid before it.
BTC/USD Price Analysis
Weekly Chart
At spot prices, BTC is back to green and up three percent from last week's close but stable below $4000 in the last day. Of note though is the rejection of lower lows below our sell trigger line and main support at $3,700.
Because of the long lower wick and the absence of sell pressure as there is no upper wick as the week started with a bang as prices dropped from $4,300, we expect BTC to find support and even expand above $4,000  towards $4,500—700 resistance level.
From our last BTC/USD trade plans, it would be ideal if prices thrust above the upper limit of this trade range at $4,500 at the back of high volumes. Then conservative traders can begin loading up on dips with first targets at $5,000, $5,500 and later $6,000 with stops at the lows of the breakout bar.
Daily Chart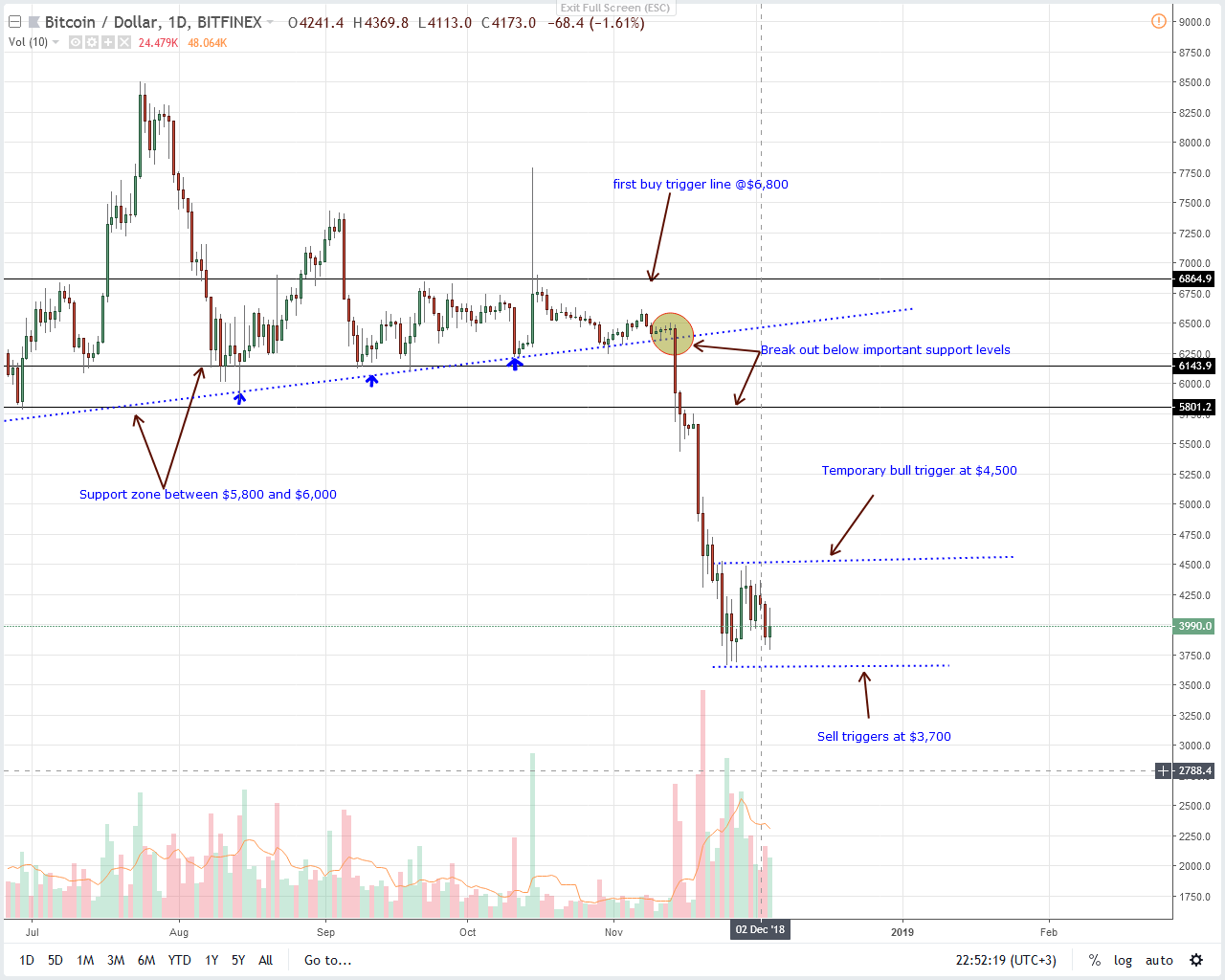 Beck to the daily chart and our trade range is visible. Although bears are definitely in charge as week ending Nov 25 shows, we retain a neutral to bullish outlook believing that BTC prices are bottoming up.
Notice that there is clear rejection of lower lows and as long as prices accumulate horizontal as it trend above $3,700 or Nov lows, aggressive traders can load at spot with stops just at $3,700 lows.
But, a safer route will be to wait for convincing breakouts above $4,500 as aforementioned. Bull targets will be the same while drops below $3,700 could be inviting for sellers aiming at $3,000.
All Charts Courtesy of Trading View
Disclaimer: Views and opinions expressed are those of the author and aren't investment advice. Trading of any form involves risk and so do your due diligence before making a trading decision.


Author: Dalmas Ngetich

Source link