Despite a spike in blockchain activity, EOS prices are yet to recover. The coin is actually the worst performer in the top 10 dropping 12 percent in the last day. However, the trend is uniform across the board with losses visible in Litecoin, Stellar Lumens and one of last week's top performer, Tron. Nonetheless, we expect prices to bounce back and every low is technically a buy opportunity.
Let's have a look at these charts:
EOS Price Analysis
Once again, EOS on-chain activities is on overdrive recording 44,780,217 transactions at the time of press with a capacity utilization index of 3.71 percent and an average TPS of 3,996. Although this is impressive, this extreme level of activity points to spam or attempts to artificially inflate activity for ranking purposes.
Read: Why Does Mainstream Media Spread So Much Crypto FUD?
After all, there is nothing that can stop users from sending infinite number of transactions and then again, with few connected users (43) and low usage of EOSIO dApps, this abnormal surge is suspicious.
But even with that, EOS is literally struggling, dropping ranks after shedding 12 percent in the last day. Referring to our last EOS/USD trade plan, bears are officially in charge and trading in a clear bear breakout pattern.  Unless otherwise there are gains above $3.5, it's likely that EOS/USD shall test $1.5 by the end of the year.
Litecoin Price Analysis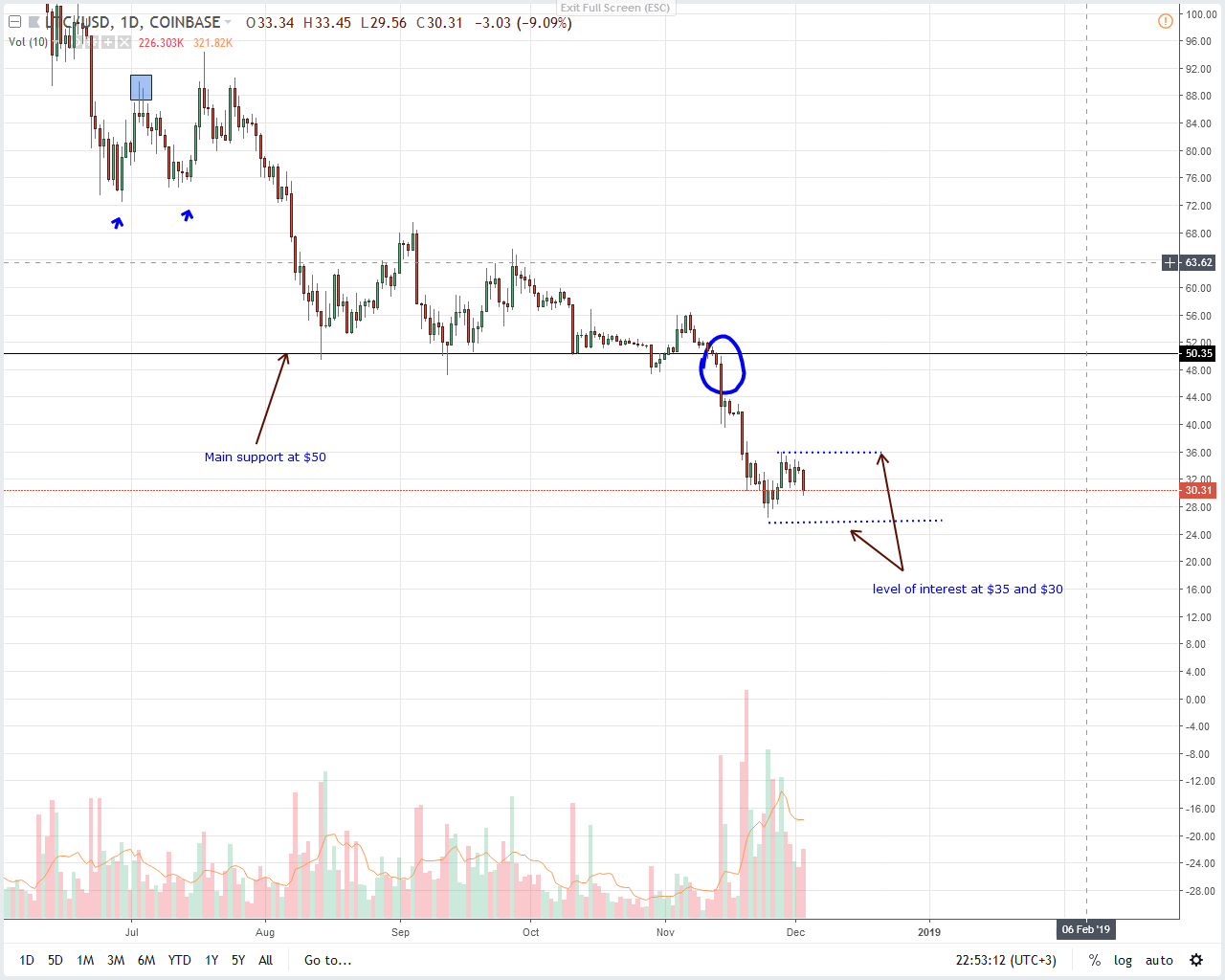 Technically, LTC/USD is trading inside a bear breakout pattern and risk dropping below our minor support at $30.
As it is, we recommend taking a neutral position only executing positions once price breakout above $35 triggering bulls or dropping below $30 igniting the next wave of bears that could see LTC drop to $20 or lower.
From the look of things, Nov 28 volumes are undoubtedly high eclipsing yesterday's—averaging 226k versus 464k. This means there should be some reprieve as LTC bulls could make a comeback. After all, as long as prices are oscillating inside Nov 28 high low, then buyers are technically in charge.
Stellar Lumens Price Analysis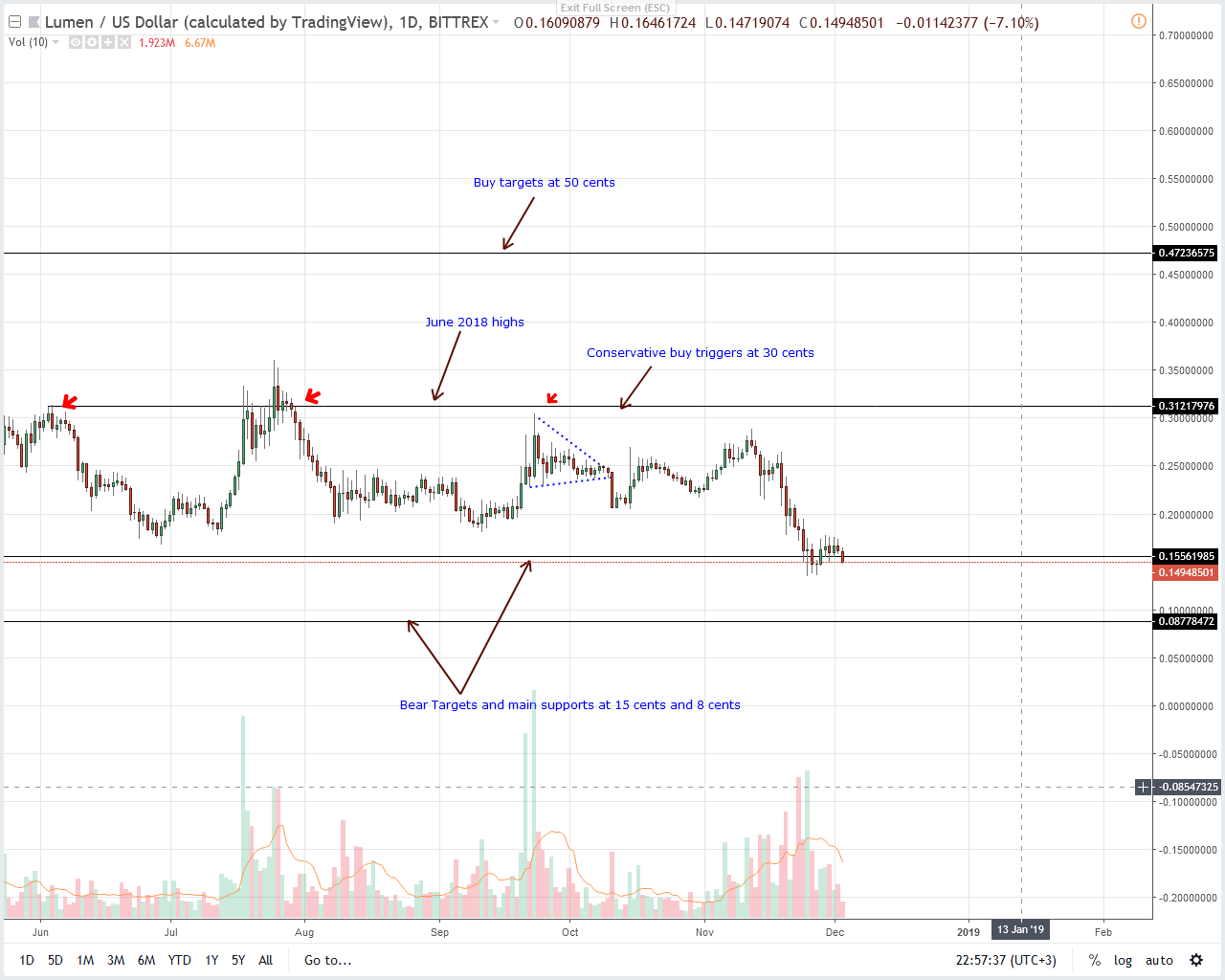 Sellers might be making a comeback but their failure to completely erase Nov 28 gains mean buyers should be in control from an effort versus results point of view.
Also Read: Mike Novogratz Expects Crypto Market Turnaround, Adoption in 2019
Therefore, since we are neutral on Stellar Lumens than to the snap back to range on Nov 25-28, we shall only liquidate our XLM holdings if and only if prices sink below Nov 25 lows at 13 cents. If that happens then it is likely that prices would hit 8 cents or lower.
On the other hand, the confirmation of the Morning Star pattern of Nov 28 could open doors for bulls allowing prices to ease to 25 cents and even 30 cents.
Cardano Price Analysis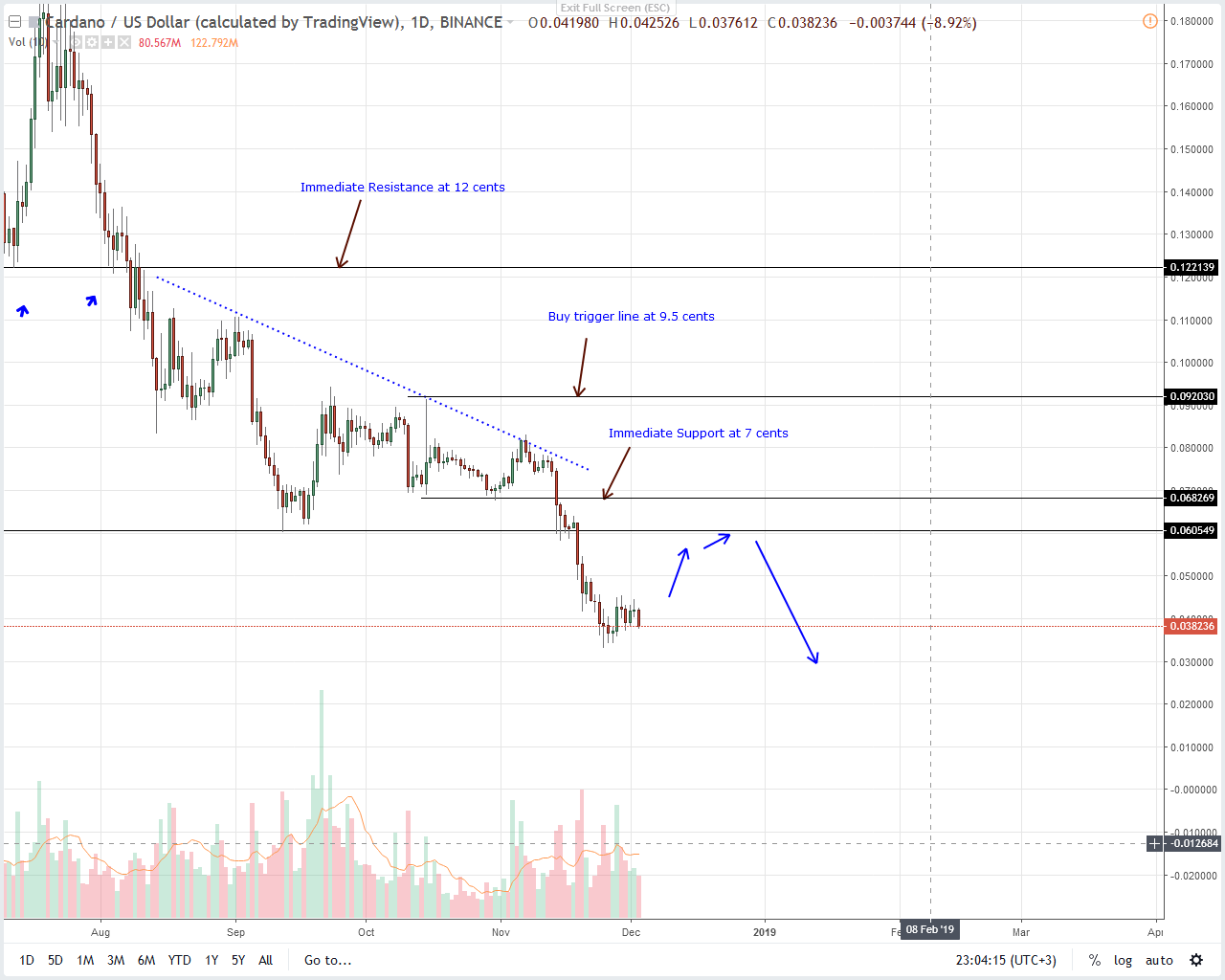 Even though ADA/USD appears to be collapsing despite fruitful attempts of higher highs by close of Nov, every low—as long as prices are trading above 3 cents—should be a buying opportunity. It's easy to see why.
First, although yesterday did see ADA dip nine percent, trading volumes are pretty low—80 million against average of 122 million and is nothing compared to Nov 28 participation levels at 218 million against averages of 140 million.
Secondly, ADA/USD prices are still oscillating inside Nov 28 high low, five days after that solid thrust from 3 cents. It's for this reason that we suggest buying at spot with spots at 3 cents with first targets in sync with yesterday's ADA/USD trade plan.
Tron Price Analysis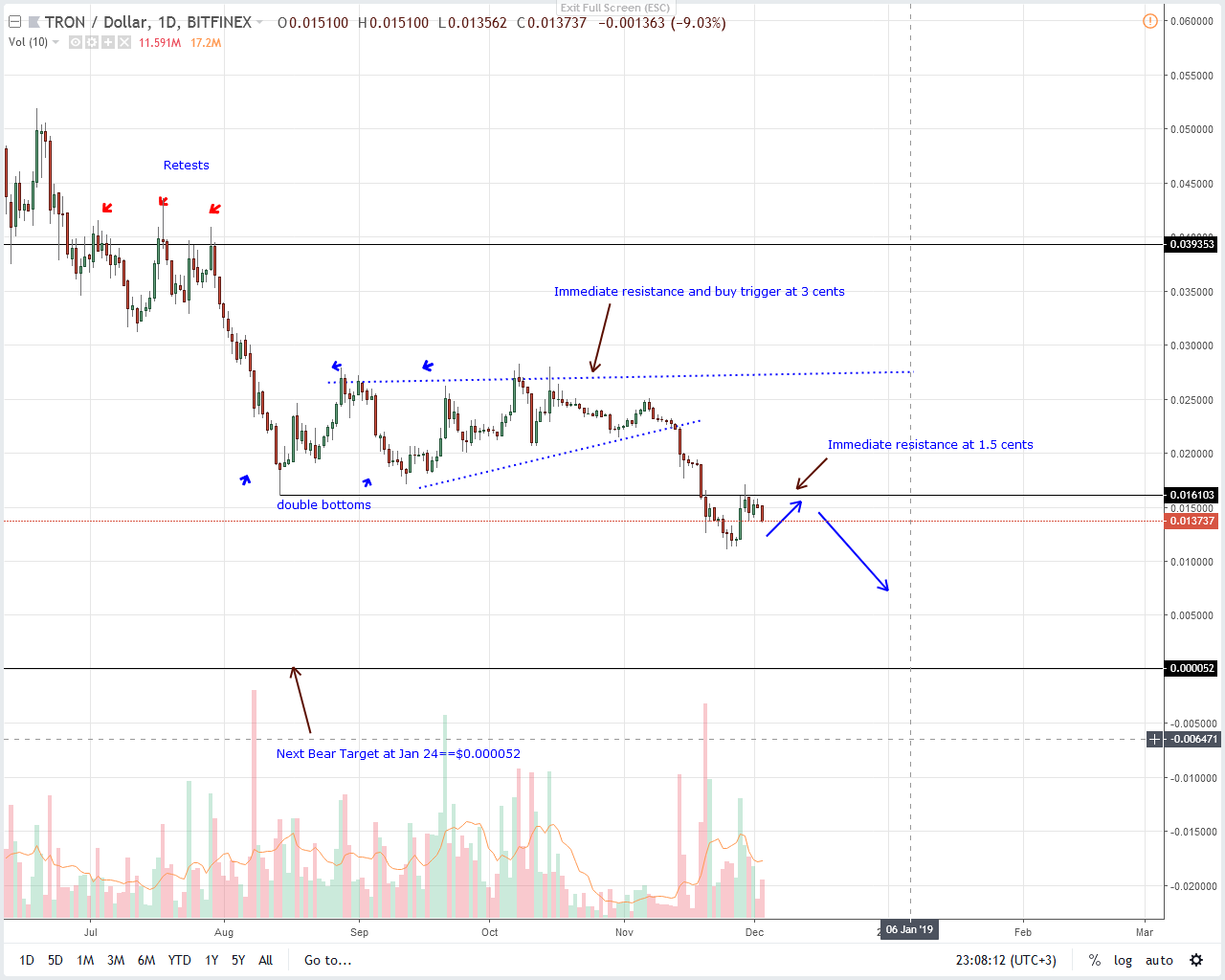 TRX/USD is up 11 percent in the last week and that means the coin is one of the top performers in the top 20. Still, TRX is on the slide draining nine percent in the last day.
Regardless, we shall retain a bullish outlook recommending buys on dips as we expect invalidation of the bear breakout pattern of Nov 19-20 by the end of the week.
So, unless prices are trading below 1.1 cents or Nov 2018 lows, even dip should be a buying opportunity with first targets at 2 cents.
All Charts Courtesy of Trading View
Disclaimer: Views and opinions expressed are those of the author and aren't investment advice. Trading of any form involves risk and so do your due diligence before making a trading decision.
Author: Dalmas Ngetich

Source link