Latest Ethereum News
To mark the 558th of "Dies Academicus", the University of Basel–which is one of the oldest universities in the world boosting alumni as Leonhard Euler, Daniel Bernoulli and Friedrich Miescher did award the co-Founder of Ethereum, Vitalik Buterin, with a Honorary Doctorate in Economics for "his contribution to promoting decentralization and equal participation in the digital revolution, as well as for his services on cryptocurrencies, smart contracts, and institutional design".
Read: McAfee Unfazed After SEC Says Promoting ICO Without Disclosing Pay is Fraud
The Department of economics and Business recognize the impact of Vitalik's contribution in the advancement of blockchain and the crypto industry. The 24 year old co-founder of Ethereum—the world's first smart contracting platform–has published several scientifically sound papers without a university degree after dropping out of the University of Waterloo at 20 years old to pursue his blockchain passions.
Also Read: CoinBase COO: Crypto is Enabling the Creation of Internet 3.0
He went on to receive $100,000 under the Thiel Fellowship and two years later he went on to create Ethereum—a dApp building and a smart contracting platform where projects can create censorship resistant apps while projects can crowd fund from all and sundry without the need of tedious paperwork.
ETH/USD Price Analysis
Weekly Chart
At third, ETH/USD is still liquid though it is down 8.5 percent in the last week and down seven percent in the last day. As expected, the path of least resistance is clear mostly because of that whole bear bar that not only confirmed the bear breakout pattern set in motion by declines of early August but closed below $160 hinting of underlying bear momentum.
As stated in our previous ETH/USD price analysis, all we need are strong gains above $130 and $160 before we can confidently fade the current bear momentum and aim for $250 and later $300. From candlestick arrangement, it's clear that bear momentum is strong and odds are we might see breaks below psychological $100.
If that undesirable meltdown prints, then we expect ETH to capitulate to $40 and in worst case scenario to $2.
Daily Chart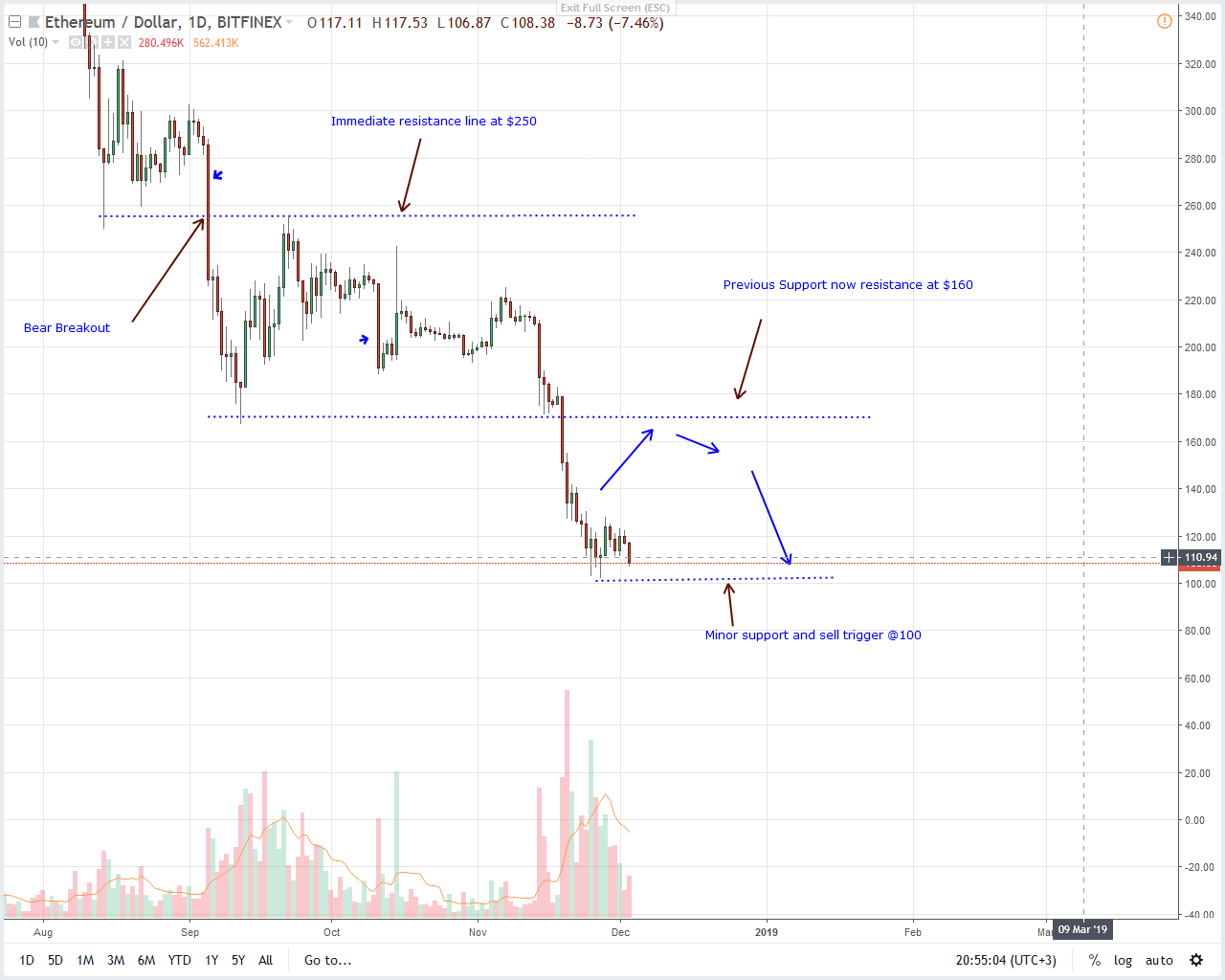 Ideally, what we would like to see is a solid confirmation of the three-bar bull reversal pattern of Nov 28. That, and as laid out in previous ETH/USD price analysis, could help lift prices above $130 and towards $160 in a retest phase of an overall bear breakout pattern.
However, yesterday's seven percent loss could be exacerbating because if prices drop below $100 at the back of strong volumes then we could see bear resumption and it could be a drain that would push ETH back to $75, $50 and $1.
Therefore, because of this likely scenarios, we recommend holding a neutral stand until either prices edge above Nov 28 highs of $130 igniting aggressive traders aiming at $160 or dips below $100 in a trend resumption move.
All Charts Courtesy of Trading View
Disclaimer: Views and opinions expressed are those of the author and aren't investment advice. Trading of any form involves risk and so do your due diligence before making a trading decision.
Author: Dalmas Ngetich

Source link