After severe draw downs that has so far clipped investor confidence, the founder of Binance Changpeng Zhao is confident of what next year holds. Of course much has been talked about entry of institutional investors and facilitators—read Fidelity, NASDAQ and others. Though next year might be the year of adoption–and that is the main reason why Binance is expanding, there should be increasing demand in lower time frames. At the moment, that is not happening.
Latest Bitcoin News
Well, the last 11 months has been nothing but one unidirectional move that has seen Bitcoin prices drop +80 percent. From highs of +20,000 to lows of around $3,700, the drain has been relentless.  But even in the midst of this capitulation and doubt, Changpeng Zhao, the co-founder of Binance has some grand plans for the world's largest exchange by trading volume.
Read: What Is Bitcoin? Crypto Featured as Category on Jeopardy
In a recent interview, he said that his ambition is to turn the Binance into a verb. Just like Google—a noun–was changed into a verb through widespread use, Binance would now that they have plans of collaborating with partners who share the same vision.
Also Read: Bitmain Launches Crypto Index for Investors, Provides Data on 17 Digital Assets
As an exchange that links the traditional fiat system with the future of money while simultaneously creating a market place for digital assets, their aim is to increase avenues through which ordinary users can find ways of investing and even spending their crypto holdings. And with 2019 promising to be a year of adoption thanks to increasing number of institutions keen on diversifying into an emerging asset class and regulators whose main mandate is to protect ordinary investors through policies that make market manipulation risky, next year could be very shaping for Bitcoin.
Nonetheless, before projections are made, we must see prices bouncing off from current floors.
BTC/USD Price Analysis
Weekly Chart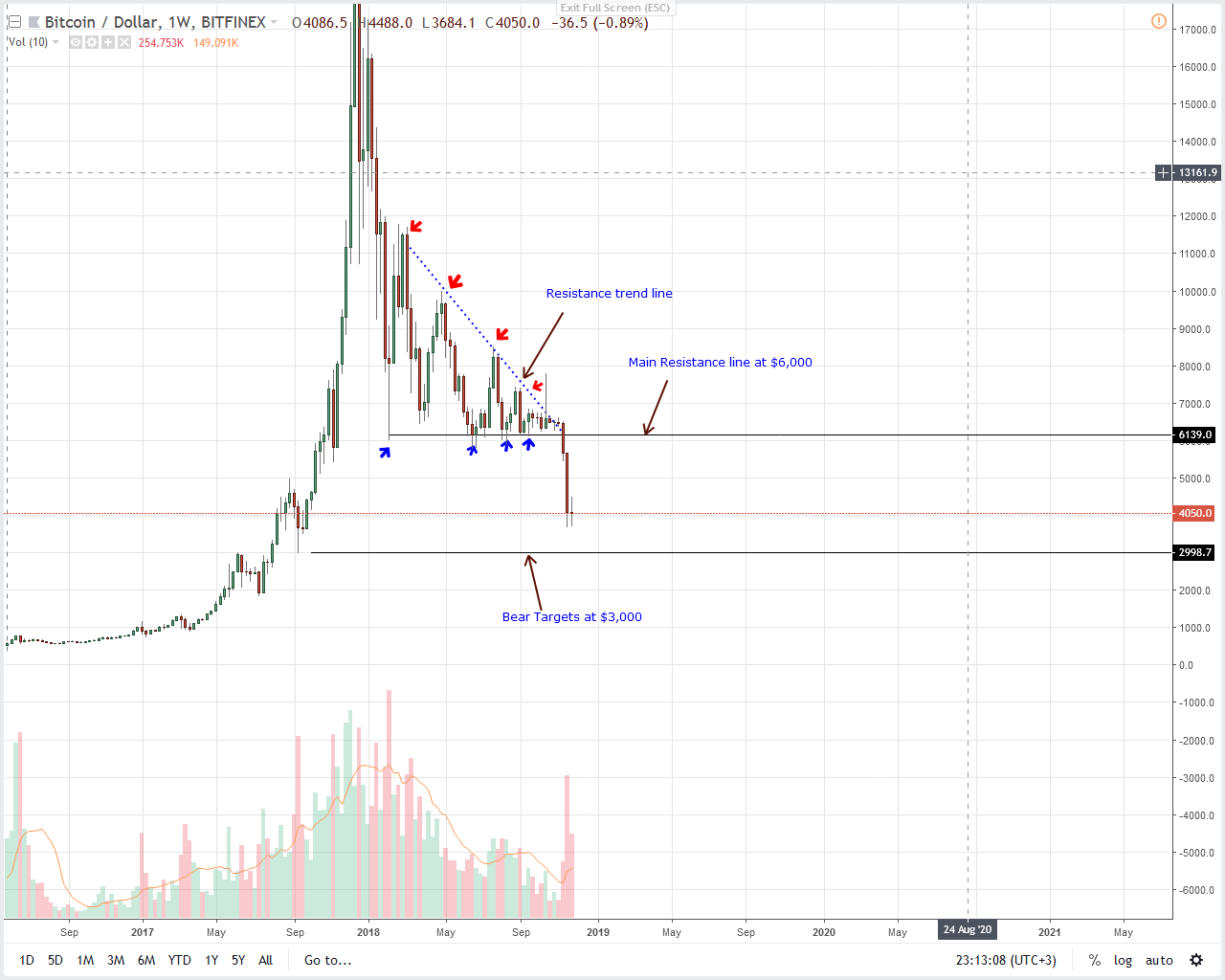 Thing is—and as reiterated in our previous BTC/USD trade plans, prices are on a strong down trend and from candlestick arrangement alone, it's a tall order for bulls to instantly change trend. That's unless of course there is an explosion of trading volumes propelling prices above important resistance levels at $4,700, $5,500 and $6,000 respectively.
For now, the direction of trend has been defined and because BTC/USD is trading within a bear breakout pattern with a whole bear bar printing below the lower limit of then support now resistance at $5,800, every high should technically be a selling opportunity.
Daily Chart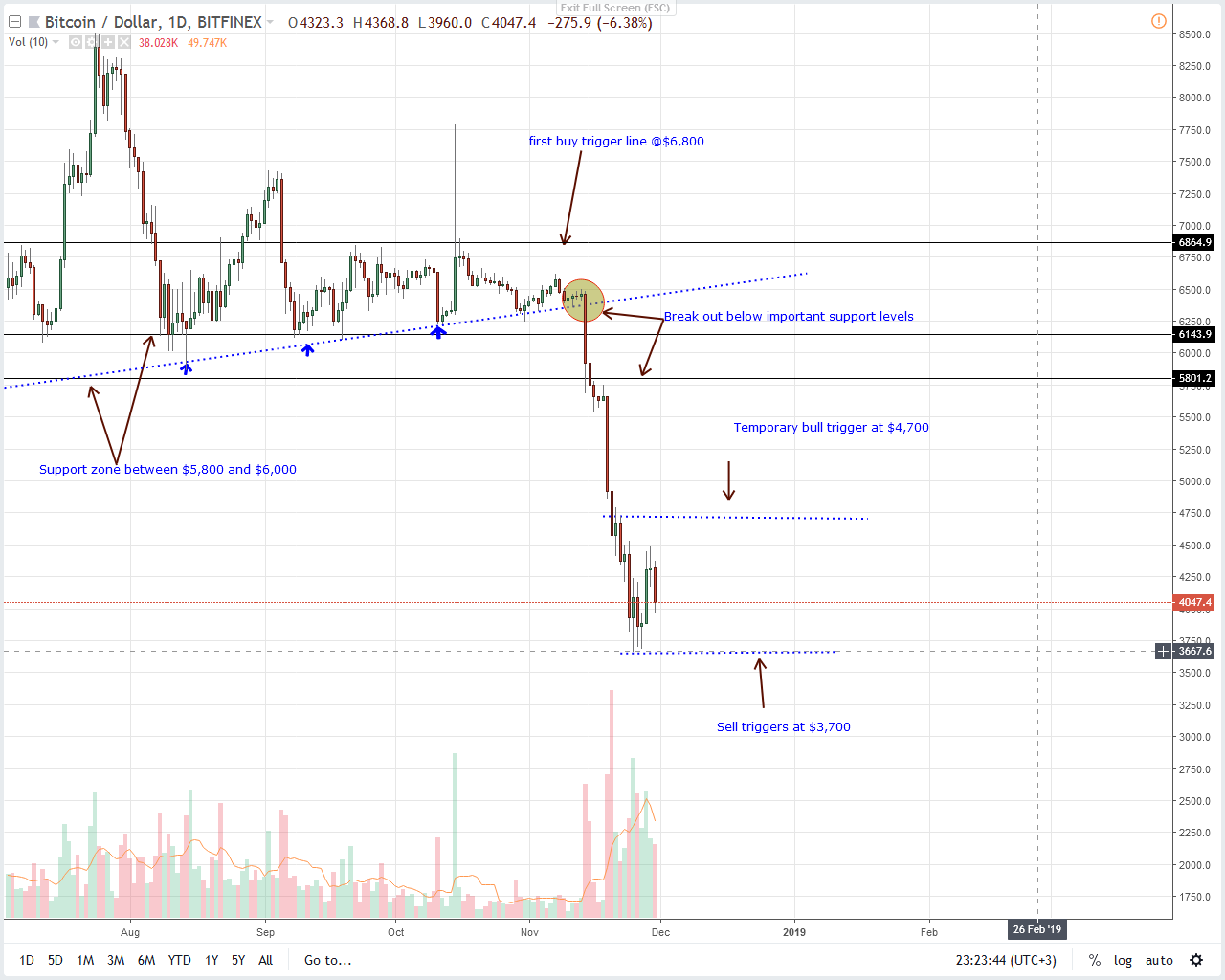 Thanks to rejection of lower lows on Nov 25—87k versus 42k that was soon confirmed by upsurges of Nov 28—65k versus 60k, it appears as if bulls are in charge. But before we draw quick conclusions, there must be a confirmation of the three-bar bull reversal pattern completed by Nov 28. It is because of this reason why we suggest risk off traders to hold off their trading until after there are solid moves above our immediate buy triggers at $4,700.
Just like in our previous BTC/USD price analysis, our first bull target will be at $5,000 and later $5,800 assuming buyers step up and erase last week's losses. However, if none of this happens and prices sink below Nov 28 lows to $3,700, odds are BTC could crash towards $3,000.
All Charts Courtesy of Trading View
Disclaimer: Views and opinions expressed are those of the author and aren't investment advice. Trading of any form involves risk and so do your due diligence before making a trading decision.
Author: Dalmas Ngetich

Source link