Although bears are firmly in control, it appears they are slowly losing steam and in that case, BCH could end up cementing its position in fourth as EOS slide to fifth after dropping six percent in the last day. While EOS struggle against Sellers, XLM/USD traders could also end up registering losses if bulls fail to muster enough momentum to drive prices above 20 cents.
Let's have a look at these charts:
EOS Price Analysis
By sliding six percent in the last day in the process extending losses to 29 percent in the last week, EOS is now back to fifth mostly thanks to stabilizing BCH prices. With a cease fire in place and BSV planning to implement replay protection, we expect BCH—the dominant chain to recover and reclaim its spot in the liquidity table.
Read: B2BX Receives FIU License, Continues to Ease Access to Liquidity for Institutional Investors in Crypto Trading
Now, while the focus is on numbers, our last EOS/USD trade plan is valid and going forward we expect further declines meaning traders should liquidate their holdings for stable coins or fiat until when EOS prices stabilize or recover at around $1.5. On the flip side, gains above $4 at the back of huge volumes shall invalidate this projection just like we have been reiterating in previous EOS/USD price analysis.
Litecoin Price Analysis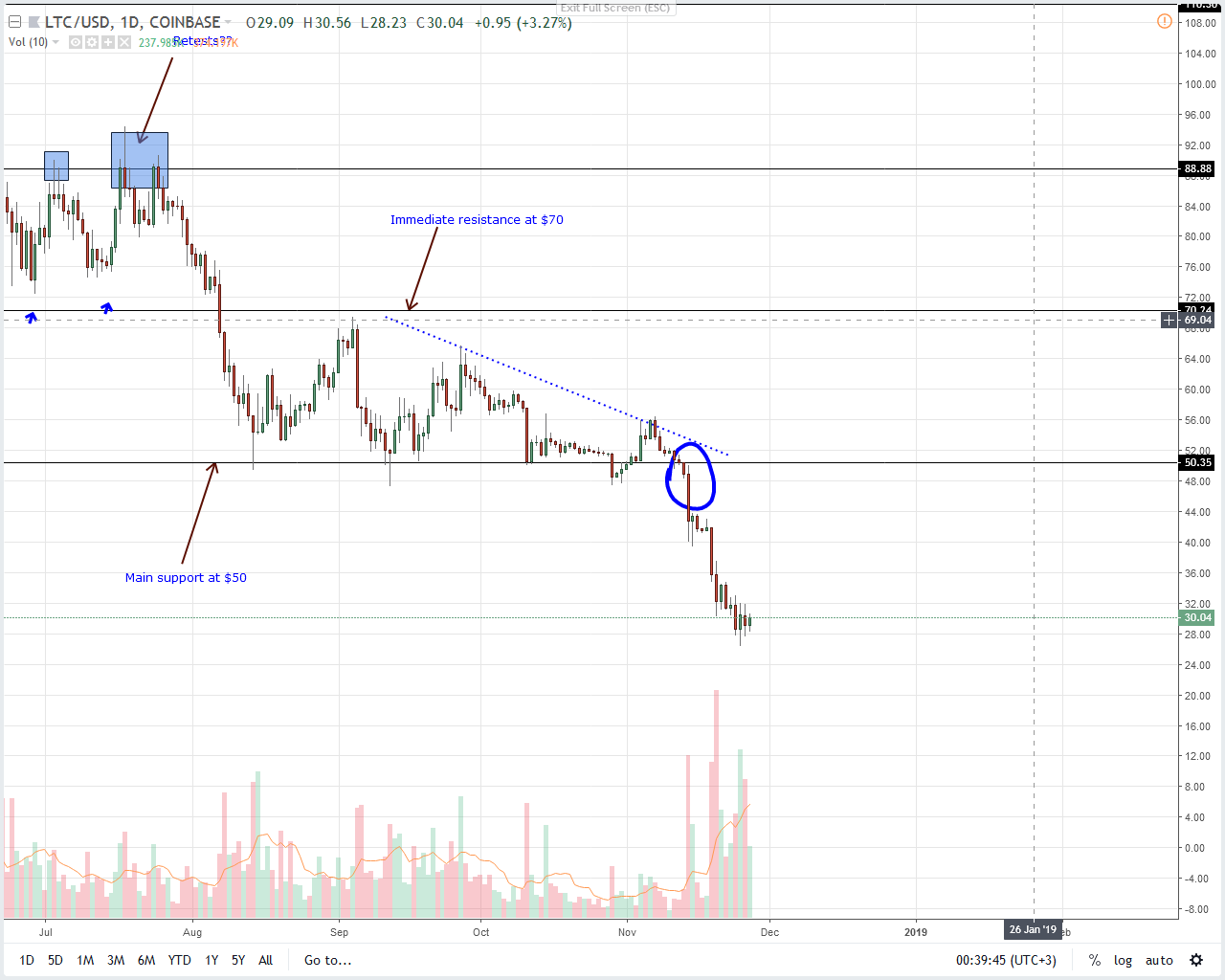 As EOS cedes ground, LTC is up six percent in the last day and this is exactly what the market wants to see. Obviously, LTC/USD is finding support at $30—our first bear target and to sync with our last LTC/USD price analysis, we shall recommend unloading the coin should there be solid losses driving prices below $30 where a whole bear bar prints below this support level.
Until then, we shall take a wait and see approach knowing very well that LTC is down +85 percent from 2017 peaks and as Fibonacci retracement rules directs, a bounce back is inevitable. In that case, we shall take small time buys, fade the made once there are bulls closing above Nov 24 highs at around $33—the peaks of this minor consolidation. First targets will be $40 with stops at $30.
Stellar Lumens Price Analysis
After three months of horizontal price movements with caps between 15 cents and 30 cents, there has been a bear breakout and Stellar Lumens for the first time in awhile is trending below 15 cents.
Also Read: Genesis Mining's Radiant Technology Makes $50 per TH/s Possible, Gets Cheaper by 25% During Black Friday Sale
Now, as laid out in previous XLM/USD trade plans, traders should look at selling the coin at spot rate since yesterday did close below the 15 cents previous support now resistance.
Our first target will be 8 cents but if there is a snap back and Stellar Lumens close above 20 cents then our short-term bear preview shall be null.
Tron Price Analysis
BitTorrent now accepts $TRX, $BNB and $BTC for BitTorrent Pro and Ad Free one-year subscriptions. Thanks to our friends at @CoinPaymentsNET, BitTorrent introduces decentralized currencies into its decentralized applications. https://t.co/jsnO9xAs5o pic.twitter.com/nO31A62sKX

— BitTorrent Inc. (@BitTorrent) November 27, 2018
Going forward, BitTorrent has announced that users can pay for ads using BTC, Binance Coin—BNB and TRX after their successful integration with CoinPayments.net. CoinPayments is a leading gateway provider for cryptocurrencies and with Tron's ambition to decentralize the web, their acquisition of BitTorrent was surely a step in the right direction.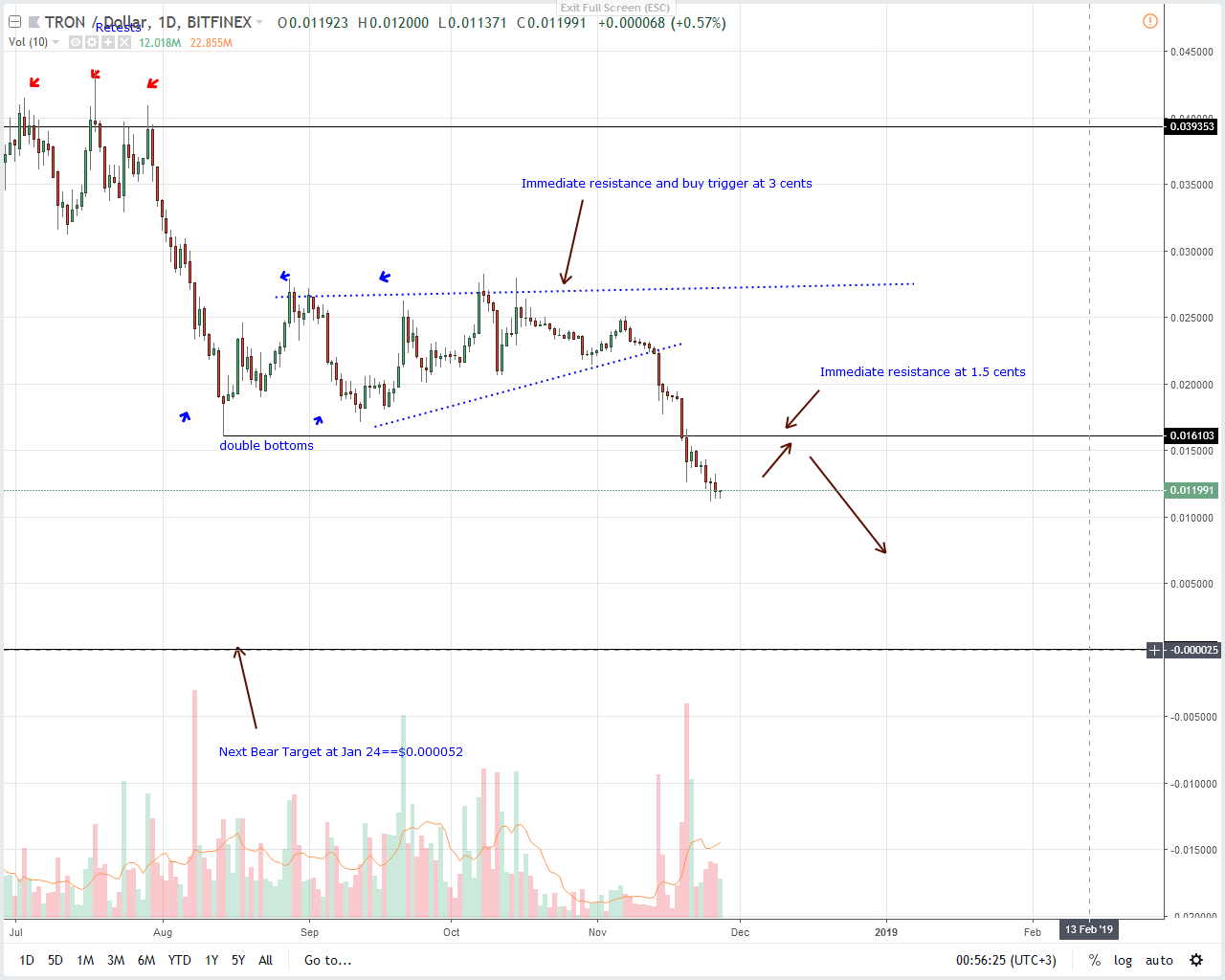 Even with that, TRX/USD is down 26 percent in the last week and is slowly gravitating towards Jan 2018 lows days after crashing below the 2 cents and support trend line mid this month. From the chart, the trend is visible and while sellers are steady, pressing the gas pedal, TRX reprieve shall only come if bears slow down allowing for a temporary expansion towards 2 cents.
From here, sellers can resume trend towards our ideal target. However, at the moment, we recommend patience suggesting shorts once there are clear cut dips below Nov 25 lows of 1 cent. Until then traders can hold off trading because TRX might bounce back towards 2 cents.
Cardano Price Analysis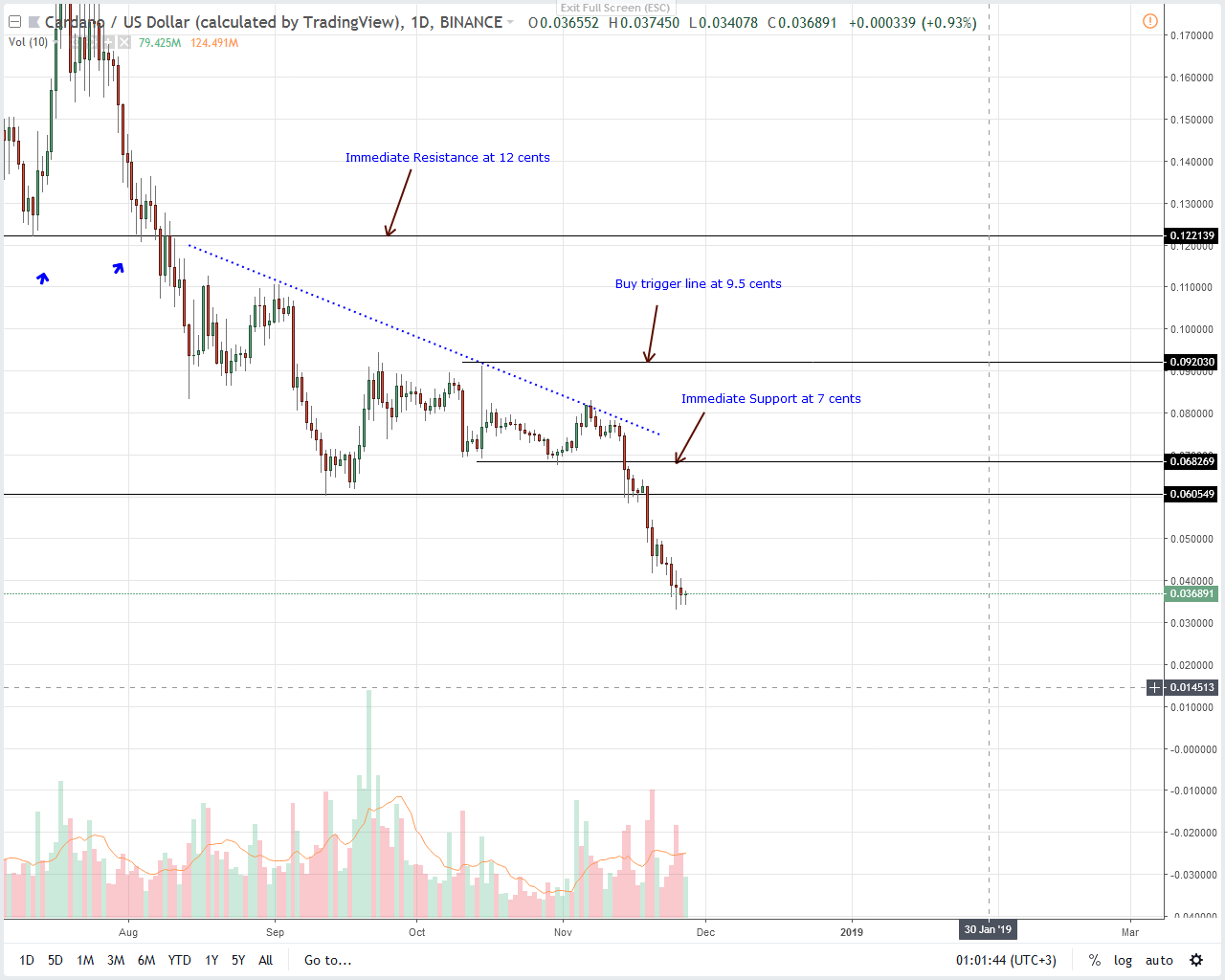 Clearly, ADA/USD is bearish and unless there are dips below Nov 25 lows, odds are we might see temporarily recover and or accumulation inside Nov 24-25 high lows of 4.4 cents and 3.2 cents in the next few days.
While trading according to our last Cardano trade plan, we shall only exit shorts if ADA prices thrust above 4.4 cents clearing and closing above resistance marked by Nov 24.
This shall usher in the first wave of small lot bulls aiming at 6 cents—our main resistance—previous support level. If not and bears join in at 4.4 cents then we might see further draw downs.
All Charts Courtesy of Trading View
Disclaimer: Views and opinions expressed are those of the author and aren't investment advice. Trading of any form involves risk and so do your due diligence before making a trading decision.


Author: Dalmas Ngetich

Source link