Thanks to Josh Mandel idea, 23 different businesses in the state of Ohio will begin paying their taxes in Bitcoin. This new "convenience and adaptation" goes to show how BTC is taking root and is nowhere from being quashed despite draw downs that has seen miners in several parts of China auction their gear.
Latest Bitcoin News
At spot prices, the ramification has been dire not only for investor who got in at peaks but for miners who bought their hardware for thousands of dollars as spike in Bitcoin prices caused a mini gold rush. Now, according to reports from China, several mining pools are phasing out equipment deemed surplus and energy inefficient. But even with a +90 percent discount, customers are wary and cautious of investing in second hand equipment.
Also Read: BitPay CEO: Fidelity and Bakkt Will Drive Next Major Bitcoin Rally
"The time to buy is when there're miners in the streets." pic.twitter.com/3fshPcANDF

— cnLedger (@cnLedger) November 20, 2018
At this rate, it is likely that the Bitcoin hash rate and difficulty will drop as miners switch off their rigs at the face of declining Bitcoin prices and the ever-increasing mining difficulty meaning it is hard for businesses to break even at spot prices. Remember, for miners there is a short window for them to recoup their hardware costs but as prices drop, miners exit and the network re-calibrate its difficulty, increasing electricity costs and other overheads is definitely slowing and even pushing their ROI to negative territory. Even still, those who remain are probably mega miners like Bitmain breaking even through economies of scale.
Interesting Read: Edward Snowden Bullish On Crypto: Blockchain Money Makes Sense
In the meantime, Ohio is the first state in the US to allow businesses to pay their taxes using Bitcoin. Terming the crypto payment as "instantaneous, secure, and transparent", the state now has a crypto payment portal: ohiocrypto.com and from this site 23 different taxes can be via Bitcoin.
BTC/USD Price Analysis
Weekly Chart
Yesterday, Bitcoin prices dropped as low as $3,700 and after fluctuating within a $2,000 range with highs of around $5,700, the current pull back is a relief for traders as well as investors. Even though this decline is in line with our previous BTC/USD trade plan, our trade plan could as well be true more so if prices fail to expand above $4,500 in the next few days.
Backing this bear preview is the simple fact that BTC/USD is trending with a bear breakout pattern following the meltdown of mid Nov when prices broke below 2018 lows and main support—now resistance at $6,000. Currently, we retain a bearish outlook. As long as prices are trading below $5,800–$6,000 resistance zone, we should look to accumulate anywhere between $3,000 and $3,500 because that is where we expect BTC to find support.
If not and there are further declines below $3,000 then odds are BTC could test $1,500 by the end of the year.
Daily Chart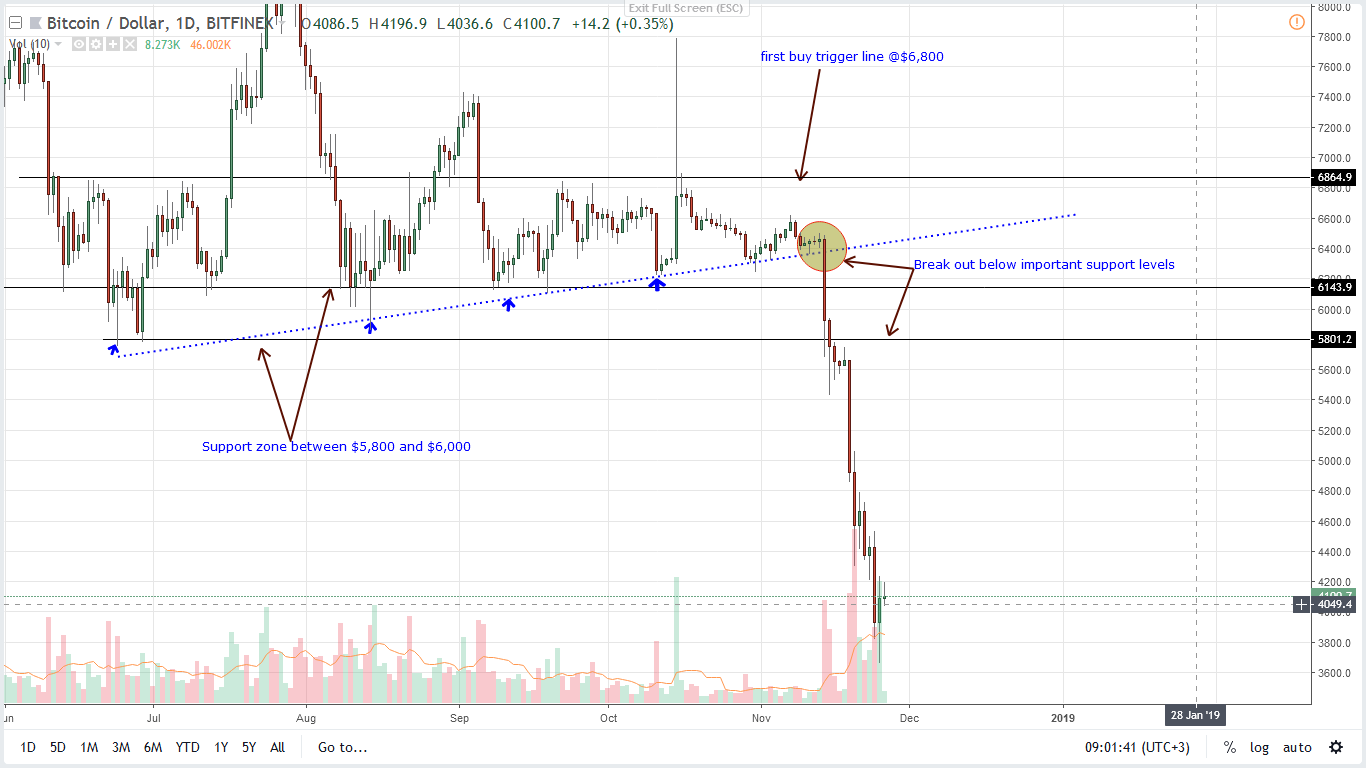 The reaction from buyers after BTC temporary drop to $3,700 has been impressive. Not only are they about to recoup Nov 25 losses but the volumes behind these recovery—78k versus 51k at the time of press, could as well help propel prices towards the first reaction and resistance level at $4,500.
Thereafter, for bulls to print higher and bounce back above $5,800 then it is imperative for bulls to maintain prices above $4,500 and even breach the $4,700. If BTC buyers triumph today and prices print above $4,500 then aggressive traders can clip the market by buying at spot with first targets at Nov 20 highs at $5,000.
All Charts Courtesy of Trading View
Disclaimer: Views and opinions expressed are those of the author and aren't investment advice. Trading of any form involves risk and so do your due diligence before making a trading decision.


Author: Dalmas Ngetich

Source link