The meltdown continues and even though fundamentals are strong, altcoin prices including those of ADA/USD and IOT/USD could consolidate after the last two day's losses mostly because of yesterday's high volumes and tight trade ranges. Needless to say, our forecasts remain constant. That's unless there are sharp gains above immediate resistances nullifying this stand.
Let's have a look at these charts:
EOS/USD Price Analysis
Thing is, yesterday's EOS/USD sharp declines did trigger our trade conditions. With prices closing below $4 and breaking below the main support line complete with high trade volumes, it means sellers are in control.
Read: Huobi Plays Party Line in China, Creates Communist Committee
However, considering the rapid drop of prices of this year and yesterday's bear candlestick closing with a long lower wick pointing to coin support in lower time frames, we recommend taking a neutral stand for the time being. This means we shall wait until a whole bear bar print below $4.
Thereafter we shall execute sells on every pullback with first targets at $1.5 in line with our last EOS/USD trade plan. Nonetheless, a reversal of yesterday's losses is positive for price. In that case we shall take a neutral stand until there are complete reversals of Nov 19—20 losses with prices above $4.5.
LTC/USD Price Analysis
Despite increasing adoptions and upcoming release of Litecoin core 0.17 that will see a drastic reduction of network fees, LTC/USD has been battered. Trading $20 below the main support line at $50 after six days of relentless sell pressure, it will be like catching knife if we recommend buys.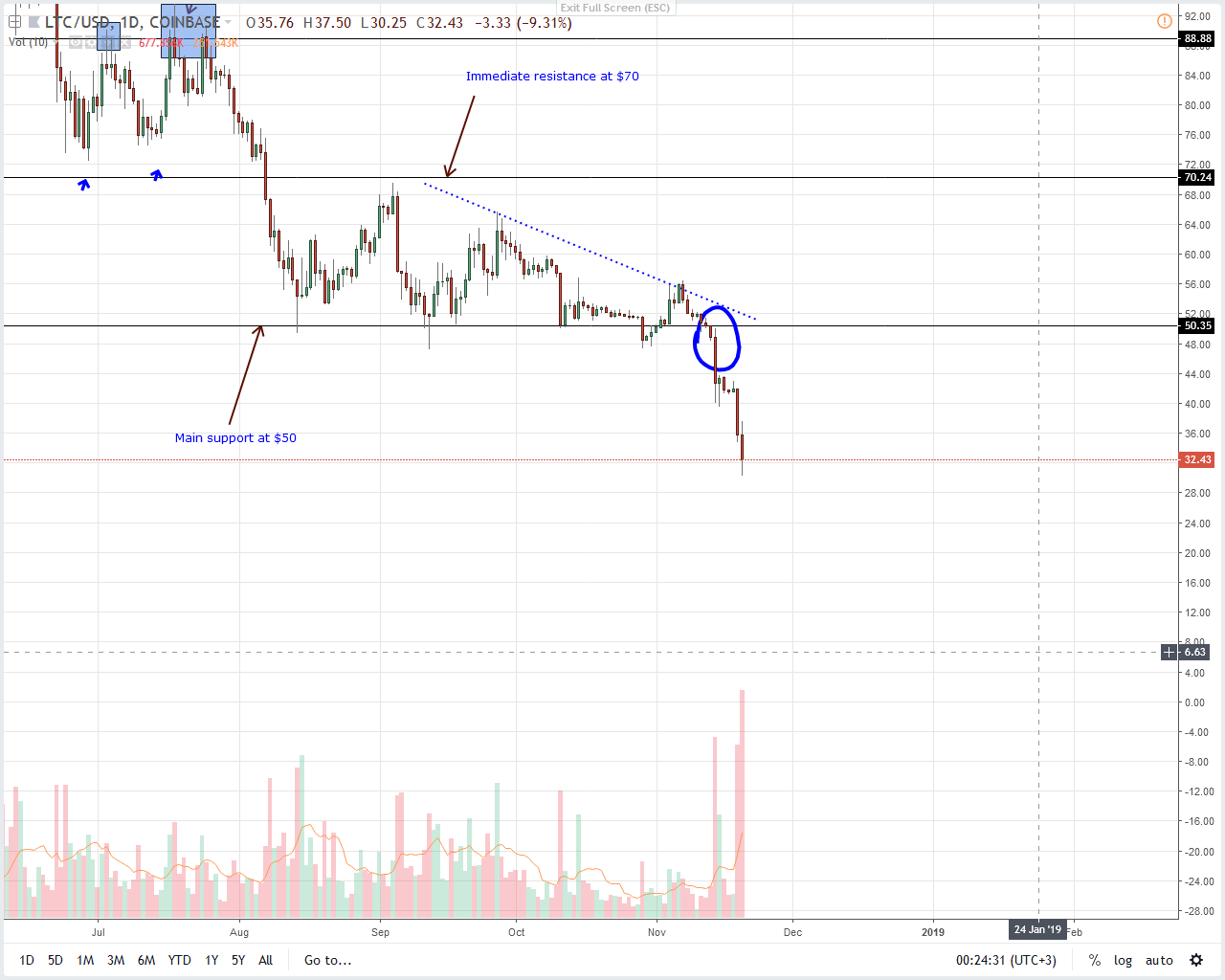 Nevertheless, basing our call on candlestick arrangement and volumes, we might as well see a slow down today. In that case, we may see LTC bulls driving back prices towards Nov 20 highs or LTC/USD ranging in the next couple of days as market participants strike a balance.
Either way, we suggest maintaining a neutral stand as we wait for today's outcome.
XLM/USD Price Analysis
You can now trade Lumens, the native coin of the Stellar platform against AED—UAE Dirham at BitOasis.
We are very pleased to announce that Stellar (XLM) is now available on our digital asset trading exchange platform with 0% trading fees until November 27th, 2018.https://t.co/6p2kl5xSmN pic.twitter.com/x9RxNaehFt

— BitOasis (@bitoasis) November 20, 2018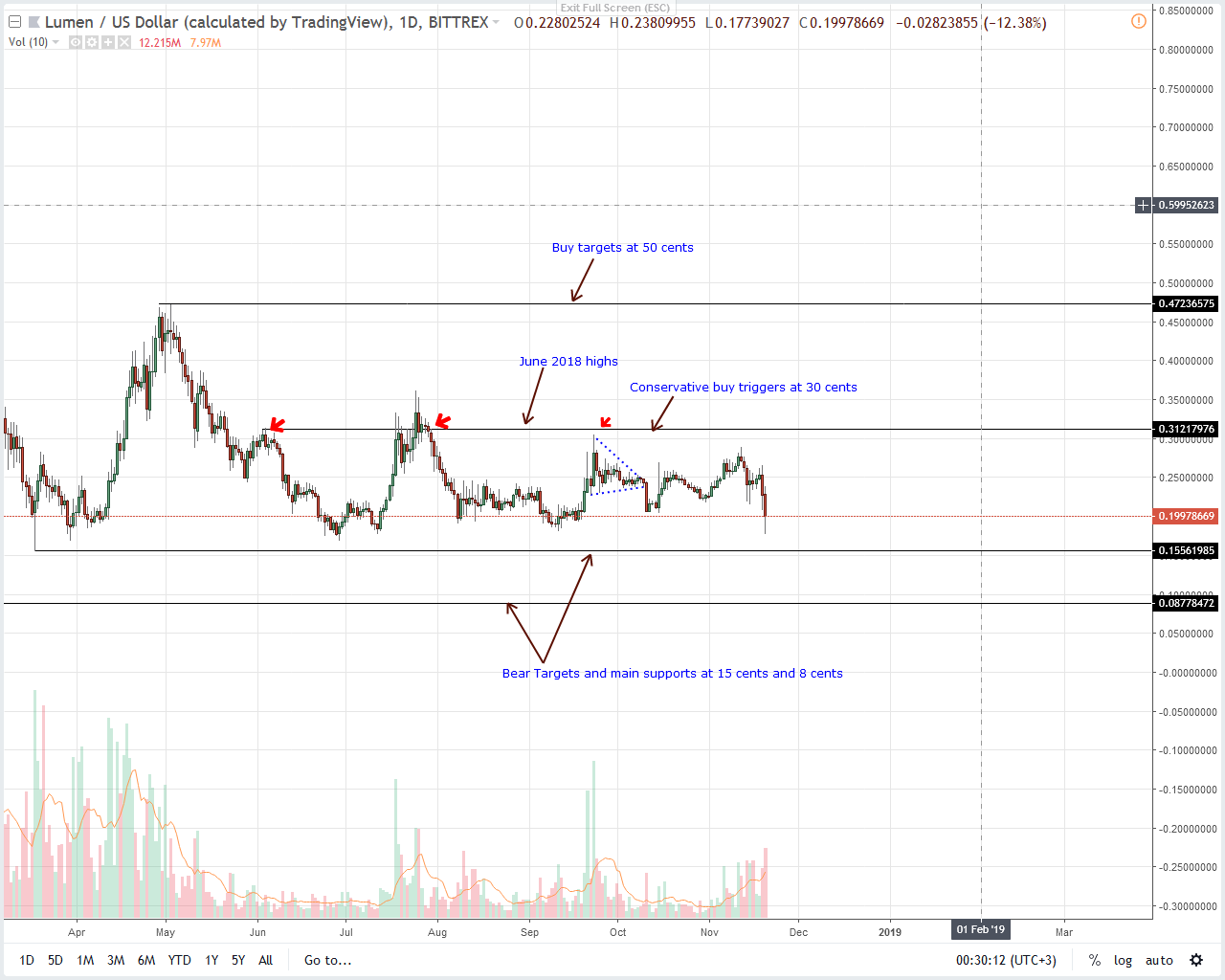 Unless there are strong surges above 30 cents or 15 cents, we shall maintain a neutral position on XLM/USD as stated in previous trade plans. This is because Stellar Lumens is stuck in a range mode with clear supports and resistance at 15 cents and 30 cents respectively.
Breakouts in either direction would trigger our trades and the longer this accumulation continue, we expect the breakout to be stronger propelling XLM to 8 cents or to 50 cents.
ADA/USD Price Analysis
Even though ADA/USD is down 38 percent in the last week, these losses would quickly evaporate if CoinBase do announce their support. But before then, yesterday's bear bar did print below the main resistance and previous support line at 6 cents meaning sellers are waist-deep in charge.
Interesting Read: Nobody Panic! Bitcoin Plummet Prompts Reassurance from Crypto Pundits
Because of this, all our previous ADA/USD trade plans are now live. As a result, traders can sell on pull backs or at spot with stops at Nov 19 highs at 6 cents and let the trade run. But if bulls prevail today then we shall slow down the selloff, exiting shorts once our stops at 6 cents are hit by a high volume bull bar.
IOT/USD Price Analysis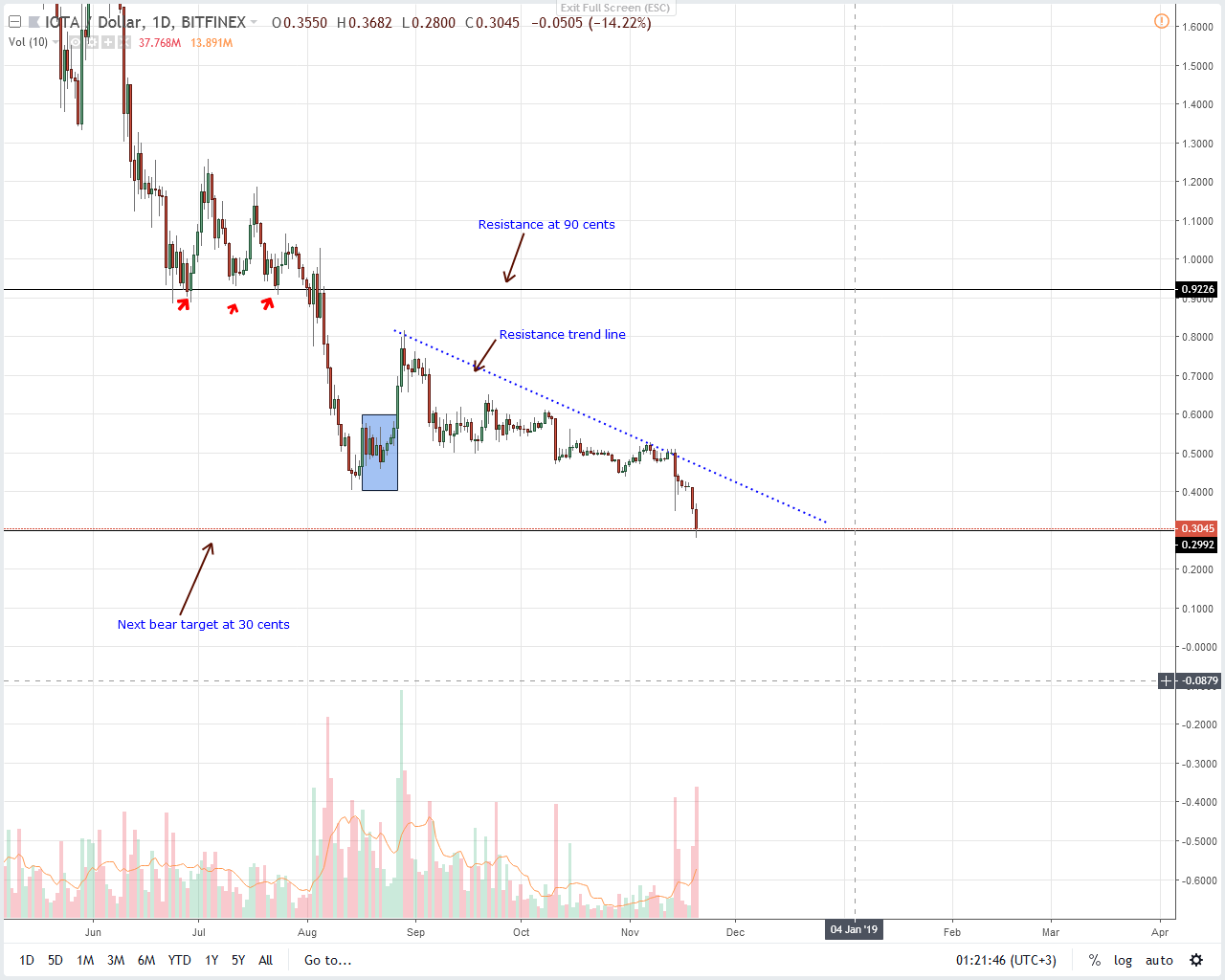 After shedding 15 percent in the last day pushing the total weekly losses to 39 percent, IOT/USD is 20 cents below our main buy trigger line at 50 cents. It also means our first bear target as been met and further losses in days to come could be a classic price capitulation.
What is important is how today's and this week's bar closes. If a full bear bar print below 30 cents then traders shall add to their shots and aim 20 cents and later 10 cents as ideal targets. On the reverse side, any price resuscitation driving prices above 40 cents and the main resistance trend line could as well hint of market bottoms and the long path towards recovery.
All Charts Courtesy of Trading View
Disclaimer: Views and opinions expressed are those of the author and aren't investment advice. Trading of any form involves risk and so do your due diligence before making a trading decision.


Author: Dalmas Ngetich

Source link