Latest Ethereum News
It's a selling frenzy out there. Although we cannot exactly pin-point the cause of this massive sell off, analysts and market pundits are linking this to the protracted hash wars between Bitcoin Cash ABC and SV. It has a contagion effect on Bitcoin since they share the same hashing algorithm and with the former backed by Bitmain, the network difficulty of BTC is drooping dragging prices and ETH with it. That is one theory.
1/ There is a big misconception that ICO companies have liquidated most of their ETH holdings. In today's issue of Diar, we looked at all the publicly available ICO treasuries and analyzed the numbers. https://t.co/EryLsW9Ouj pic.twitter.com/j2DYajcwzQ

— Larry Cermak (@lawmaster) September 10, 2018
A more reasonable explanation is the recent report from Diar, a trusted newsletter detailing how ICO projects are dumping their ETH holdings further fueling bears. While it is true that any further drop could do an irreparable damage to the crypto ecosystem and pin down legit project development on the Ethereum ecosystem, it also true that miners are getting disillusioned as bear step up their momentum.
Read: Ethereum Plunges 12%: Will ICOs Continue to Drag ETH Down?
As all this is printing out, the ICO siege continues. ICOs are literally cut off from willing investors and now the SEC is cracking down on offerings they view as securities. Two such projects–CarrierEQ Inc. (Airfox) and Paragon Coin Inc have been penalized $250,000, directed to compensate victims and to register their "illegal" offerings under the Securities Exchange Act of 1934.
Also Read: Tokens Plummet 15-20% following SEC's Crackdown on ICOs, Dark Days Ahead
ETH/USD Price Analysis
Weekly Chart
Aside from Bitcoin Cash (BCH/USD) and Cardano (ADA/USD), losses in ETH/USD are visible. The coin is down 29 percent in the last week and 14 percent in the last day as sellers step on the accelerator aiming their muzzles at $100 and probably $75 by the end of the year.
Of course, that is the path investors don't want to see. Nonetheless, notice that ETH/USD is trading within a bear breakout pattern following last week's drop below the lower limit of our support zone at $160. Backing this move down are strong volumes and wide trade ranges triggering shorts in line with our last ETH/USD price analysis.
Moving on, we suggest traders to align their position with the path of least resistance, unloading on every high unless of course there are strong gains above $160 and most importantly $200.
Daily Chart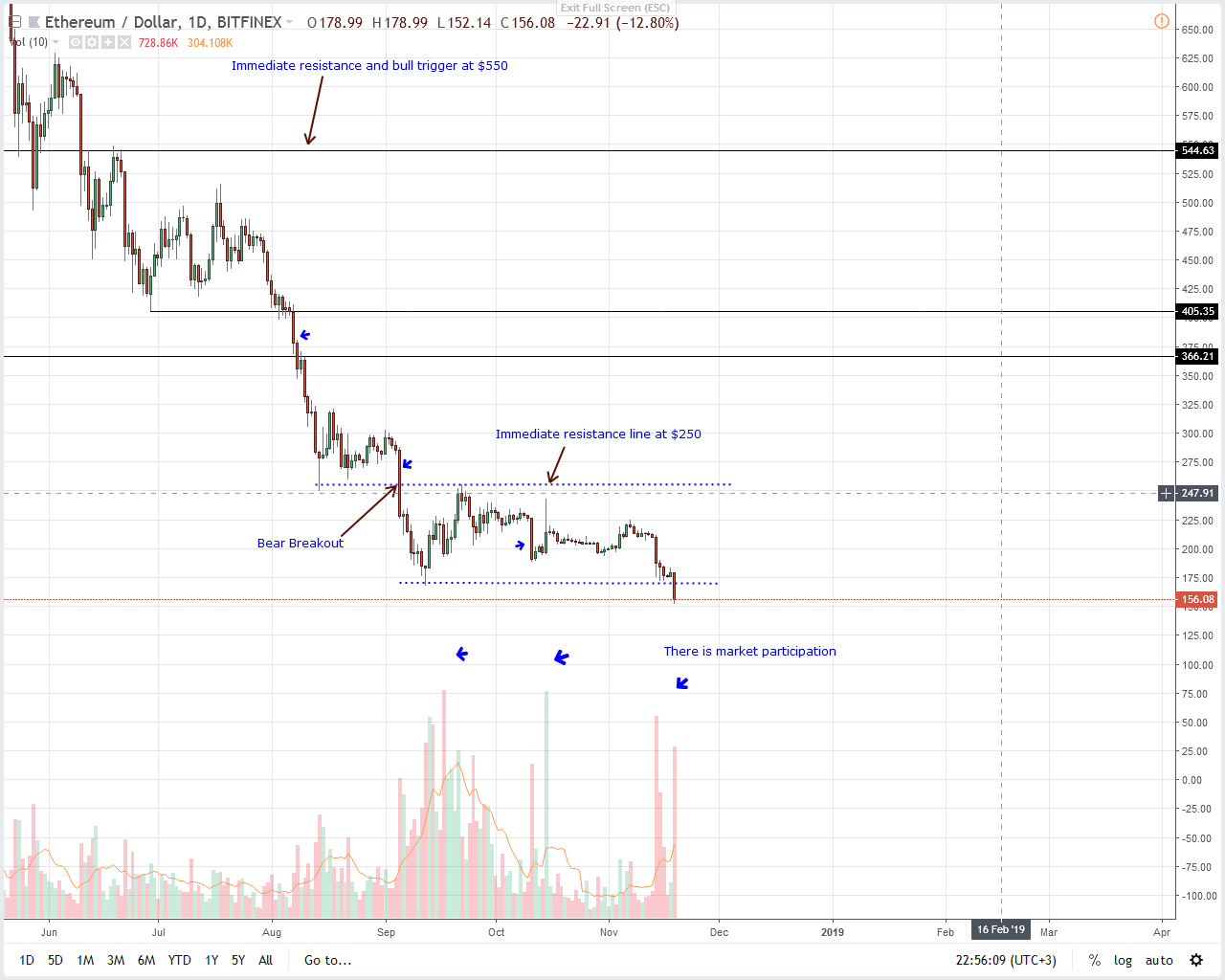 The steep losses are clear in the daily chart. Here, not only can we see the dips below $160 but the fact that there is a whole bear candlestick that is now below the main support level hint on underlying bear momentum. Everything else constant and assuming there is a panic sell by ETH rich list addresses, then we might see further supply feeding bears aiming at $130 and later $100.
However, any supporting fundamentals more so from the team concerning scalability break through or cease fire from SV and ABC, then prices could recover above $160 as mentioned above. For now, our previous ETH/USD trade conditions are live and the path of least resistance is southwards.
All Charts Courtesy of Trading View
Disclaimer: Views and opinions expressed are those of the author and aren't investment advice. Trading of any form involves risk and so do your due diligence before making a trading decision.


Author: Dalmas Ngetich

Source link