It's back to red territory for altcoins and with double digit losses, prices are trading below important support levels. Leading the pack is LTC/USD which is down 14 percent in the last day and ADA/USD trading below 6 cents as bears print new all time lows. At this pace it is likely that Monero will further shrink and convincing close below $70 as sellers aim to drive prices towards $60.
Let's have a look at these charts:
EOS/USD Price Analysis
There has been a BCH–EOS flip and Dan Larimer's coin is back to the top 5 commanding a market cap of around $4.203 billion at the time of press. This is partly because of BCH sharp decline in prices. Even though EOS wasn't saved the brunt as it is down 11 percent in the last day, we expect EOS price volatility to reduce going forward.
Read: Another Crypto Dump, $12 Billion Slashed on Monday Markets
All in all, yesterday's high volume bear bar did drive prices below our first level of support at $5 and $4.5. This means aggressive traders can begin unloading at spot prices with stops at yesterday's highs and first targets at $1.5. On the other hand, conservative traders can wait for solid break and close below $4—an important support level before selling on pullbacks with first targets at $1.5 in line with our last EOS/USD price analysis.
LTC/USD Price Analysis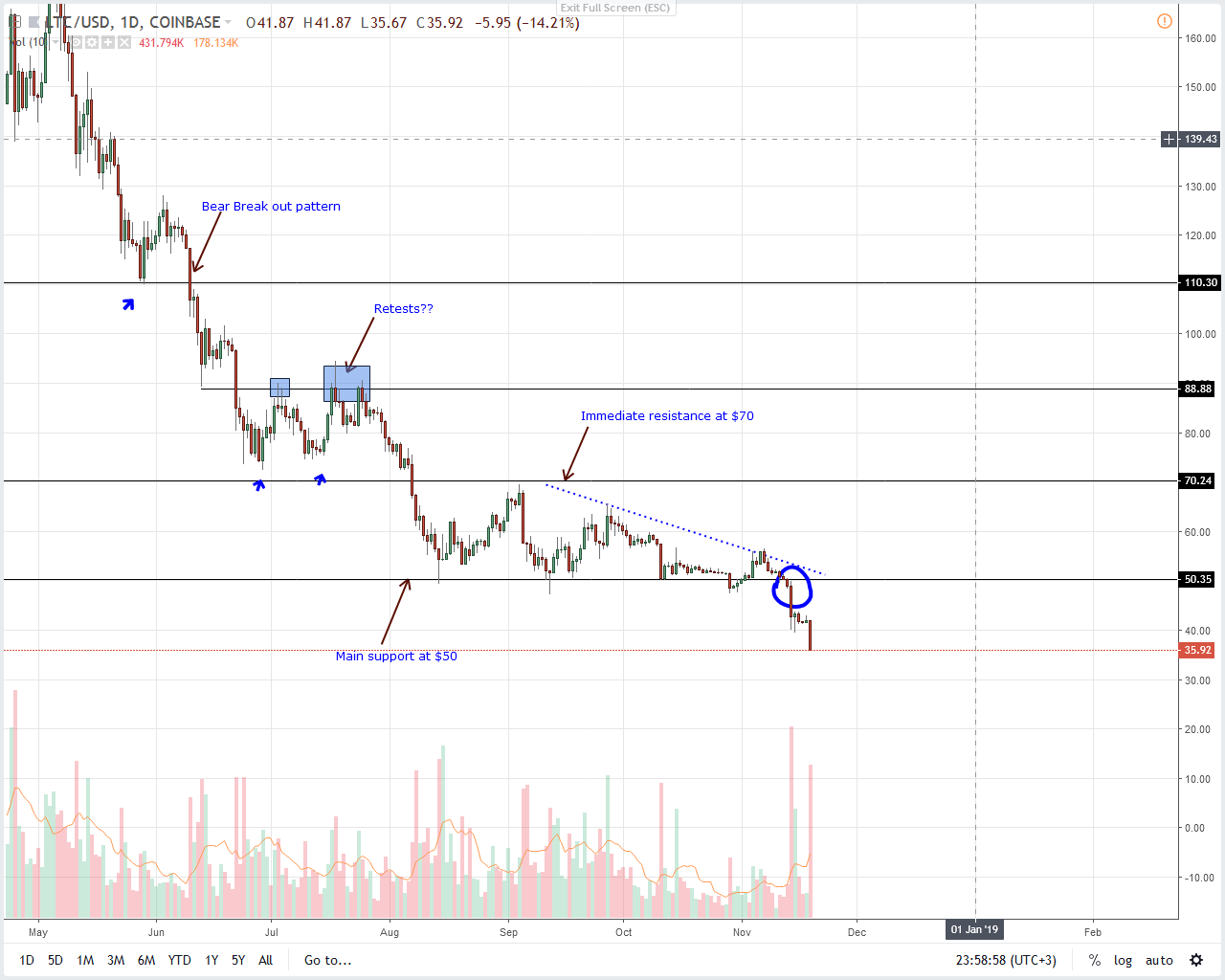 The meltdown is worse at LTC/USD. After losing 14 percent in the last day thanks to that humongous bear candlestick, the pair is just $6 from our first bear target at $30. Though we expect prices to recover as prices realign as a response to yesterday's rapid losses, the only time we expect bulls to be in charge is if there is a strong rebound and close above $45 or $50.
Otherwise, there seems to be no reprieve for LTC bulls. As sellers unpack, our next target after $30 is anywhere between $20 and $25—Q2 2017 lows.
XLM/USD Price Analysis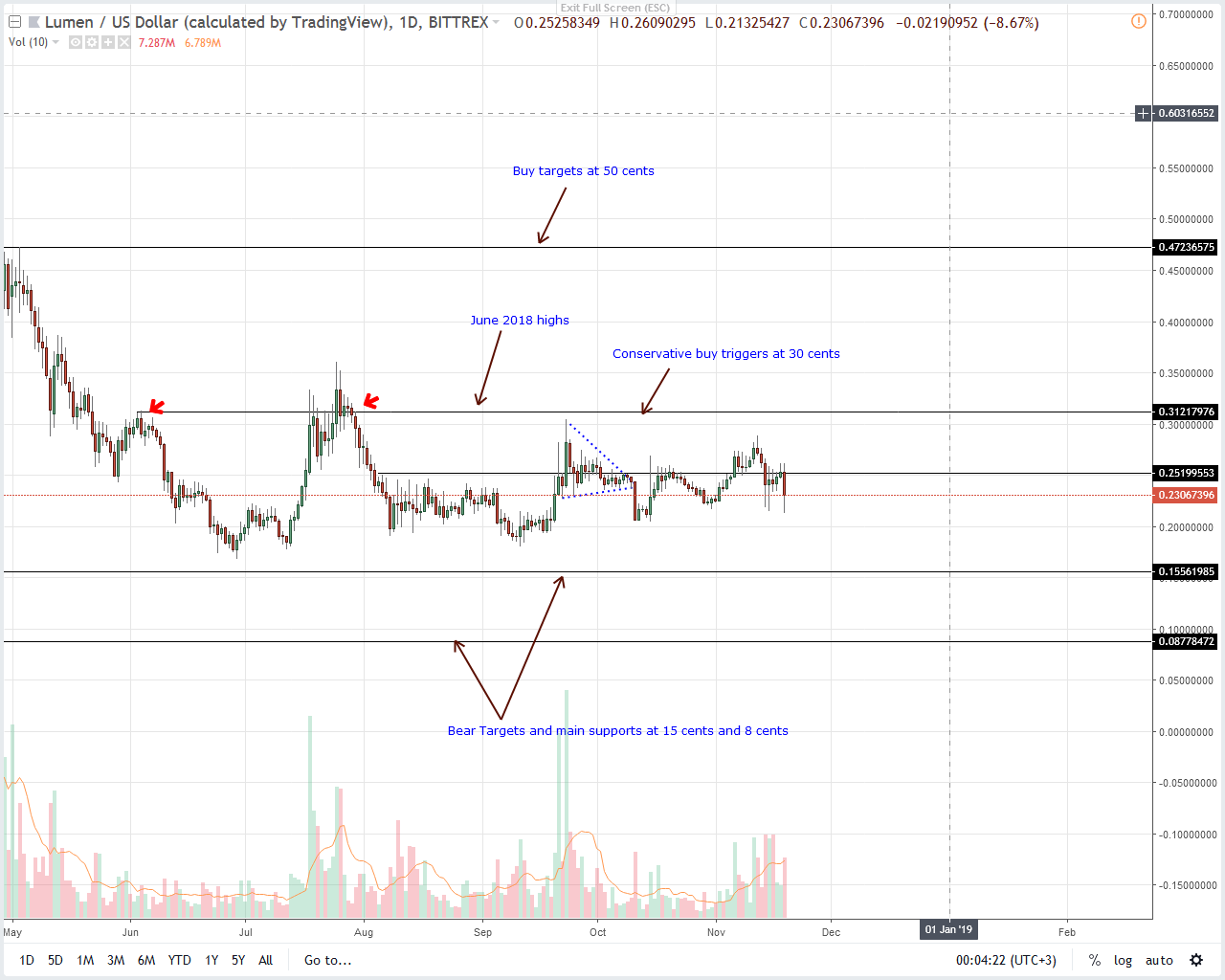 At current valuation, Stellar Lumens is the fourth most valuable coin with a market cap of $4.5 billion despite shedding eight percent in the last day.
Nonetheless, this is impressive performance by XLM/USD.  Under normal conditions, XLM/USD performance could have been stellar. Now, since bears are in charge but Stellar Lumens is trending above 15 cents-20 cents support, we recommend holding off trading for now.
Also Read: No Recovery Bounce As Crypto Markets Remain Crushed
This is in line with our previous XLM/USD trade plan as the pair is largely ranging with clear supports and resistance at 15 cents and 30 cents. Until there are convincing breaks and close above or below any of these trading levels, first targets would be at 8 cents or 50 cents depending on the direction of breakout.
ADA/USD Price Analysis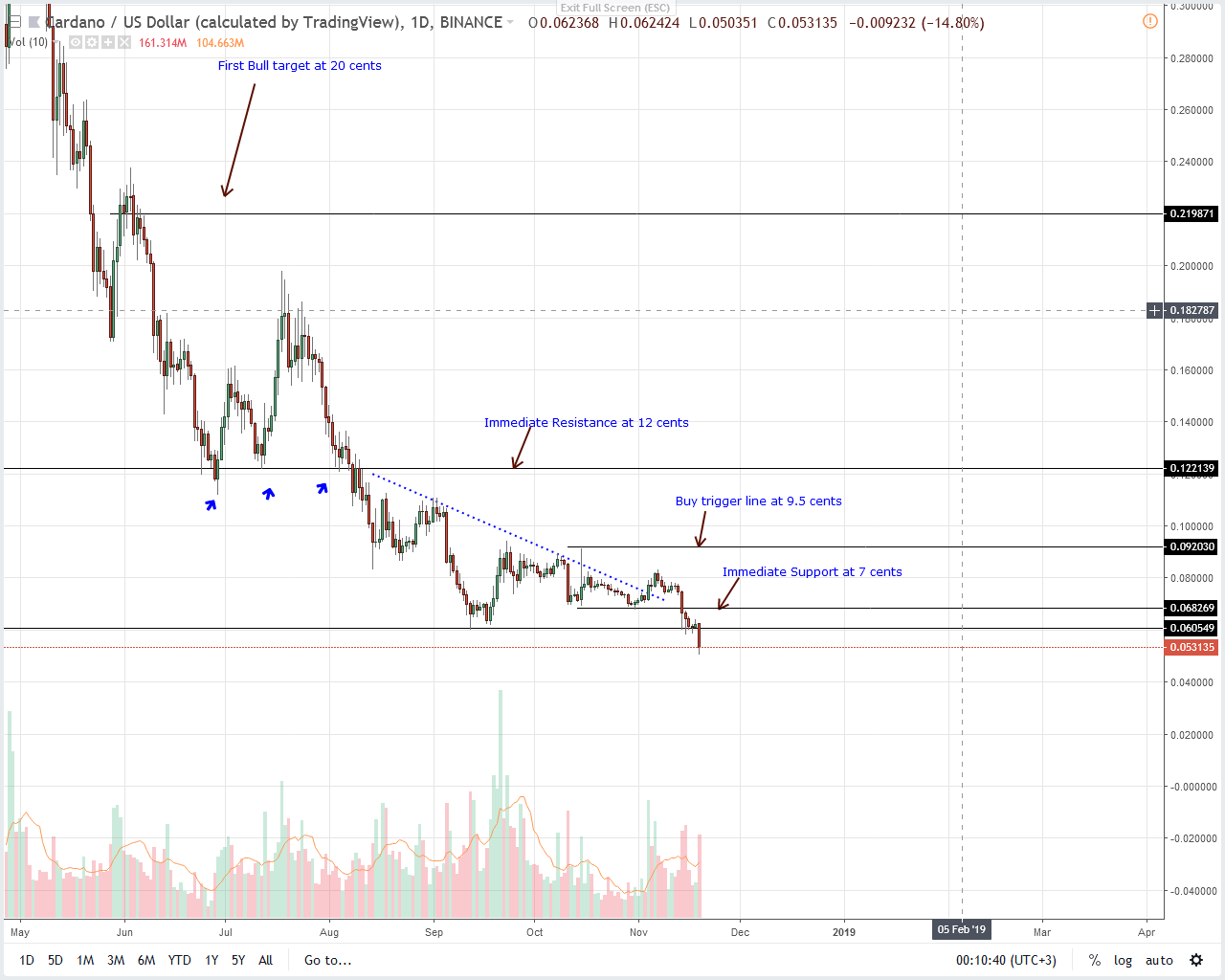 Though Cardano 1.4 update could be available later this month or early December, ADA/USD prices are dropping. Coin statistics indicate that it is down 30 percent in the last week and 15 percent in the last day meaning ADA/USD is now trading below 6 cents for the first time this year.
As laid out in our last ADA/USD trade plan, we suggest shorting this pair on every pull back in lower time frames or at spot and let the trade run. Fitting stops should be at yesterday's highs of 6.2 cents.
XMR/USD Price Analysis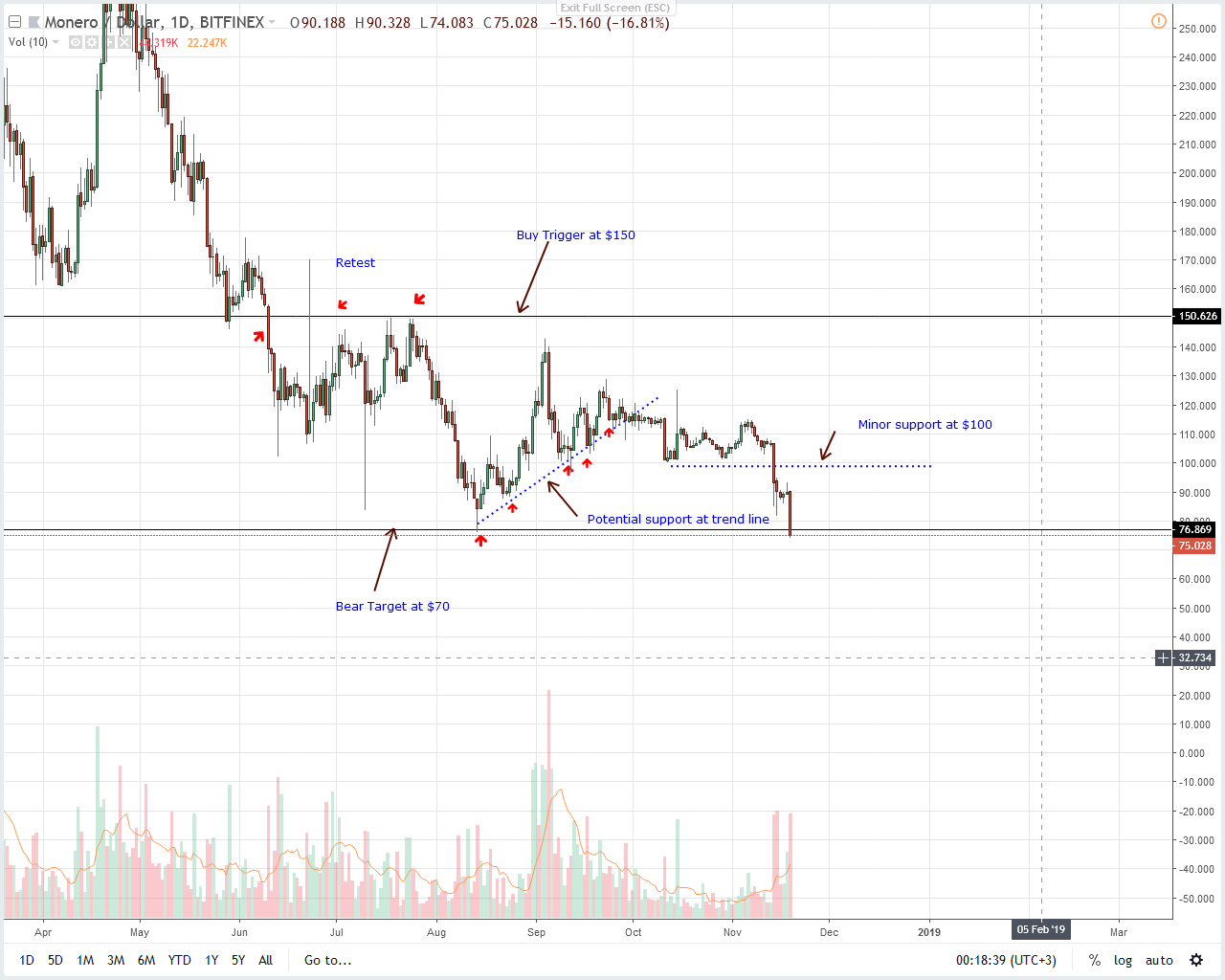 Like the rest of the market, Monero is grappling against a wave of panic sells. From the charts, not only has our first bear target at $70 been hit six days after prices broke below the $100 psychological level but it appears as if buyers are now extinct.
With yesterday's meltdown, we recommend sellers to add on to their position with the first logical target at $60 and later $30 assuming bears maintain the same momentum.
All Charts Courtesy of Trading View
Disclaimer: Views and opinions expressed are those of the author and aren't investment advice. Trading of any form involves risk and so do your due diligence before making a trading decision.
Author: Dalmas Ngetich

Source link