Still, altcoins are weathering strong headwinds. Other than bullish ADA/USD and XLM/USD, EOS/USD, XMR/USD pairs are stable while LTC/USD could below $50. Needless to say, we are overly positive expectant of loss reversals following 10 months of consecutive lower lows.
Let's have a look at these charts
EOS/USD Price Analysis
Carbon USD—CUSD, is officially the first stable coin on the EOSIO platform. With fiat as collateral, CUSD is also accessible for Ethereum users. But according to the founder, Samuel Trautwein, their grand plan is to transition into this "fiat-backed algorithmically hybrid approach" once it goes mainstream with enough liquidity. As expected, this announcement means there is better interoperability. Moving on, traders can enjoy cheaper and faster settlement than they would on the Ethereum platform.
On to the chart and everything is literally slow. Not only are gains no-existent but the tapering volumes is confining price movements inside a $2 range. This accumulation validates our previous EOS/USD trade plan and we suggest executing trades once there are breakouts above Oct 15 highs at $6 or losses below $5. Of course, the former is ideal. It is because of this that we retain a bullish outlook as long as prices are still trending inside Oct 15 high low.
LTC/USD Price Analysis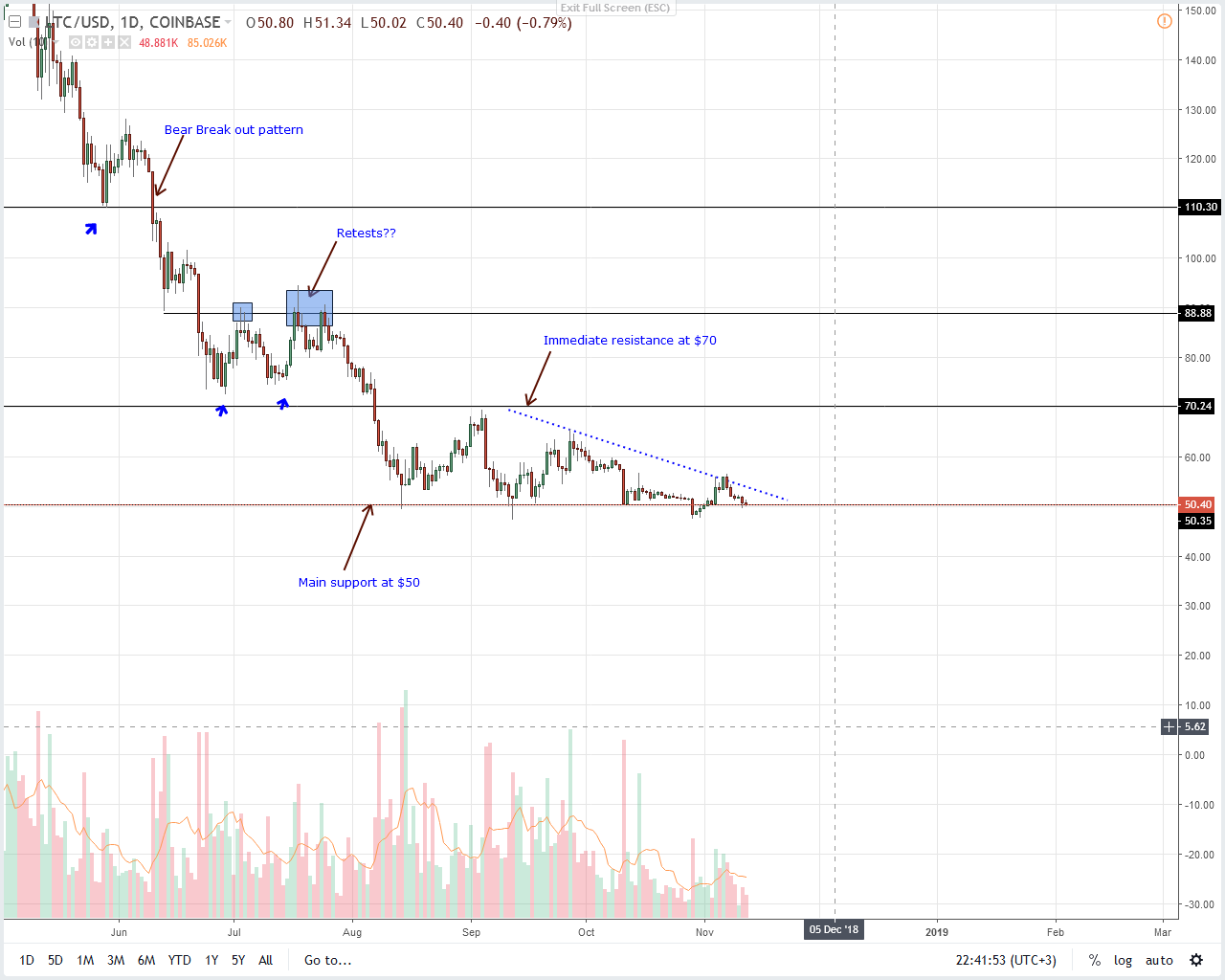 Thing is many are expecting higher highs but since LTC/USD is yet to muster enough momentum driving prices above $50, it remains a sell. In line with our last trade plan, we shall take a neutral approach only initiating shorts once there are solid printouts below $50.
Related: Gemini Adds Litecoin with Approval from New York Regulators
Conversely, it would be ideal if buyers jump in to prevent this depreciation. However, for this to be true then buyers must inject momentum and support prices at spot as they drive them towards $60. Before any of that happen, sellers are in control but to avoid speculation, we recommend taking a temporary neutral stand.
XLM/USD Price Analysis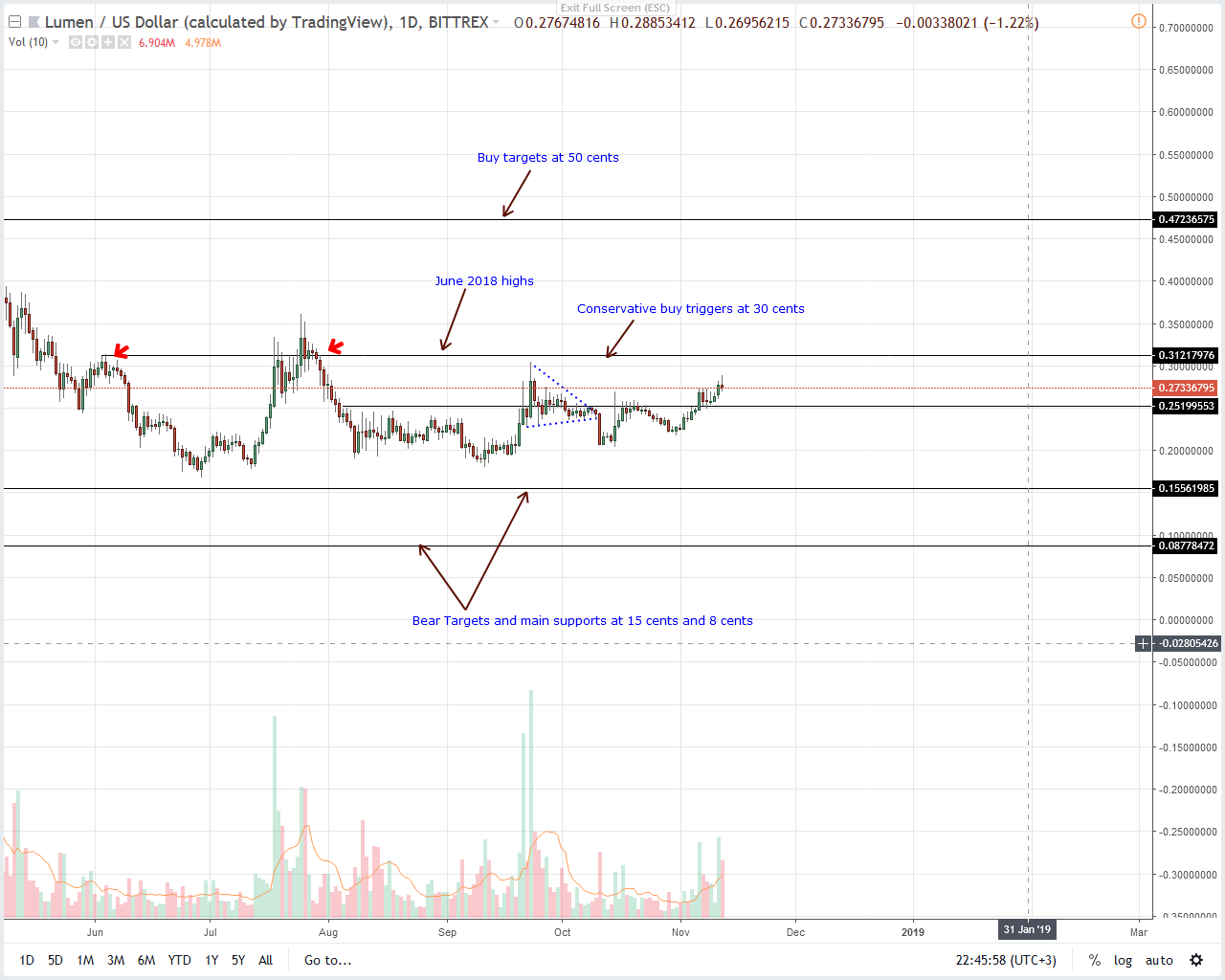 On a weekly basis, Stellar is up 14 percent but printing losses in the last day. Regardless, our last XLM/USD trade plan is valid and to reiterate, as long as prices are trading above 25 cents, then aggressive traders can begin initiating longs with stops at 25 cents with modest targets at 30 cents. If today end up higher–as EOS flat lines–then there could flip be a flip. After all, the margins are low and with less than $400 million of value separating them, EOS risks dropping down the perking order.
ADA/USD Price Analysis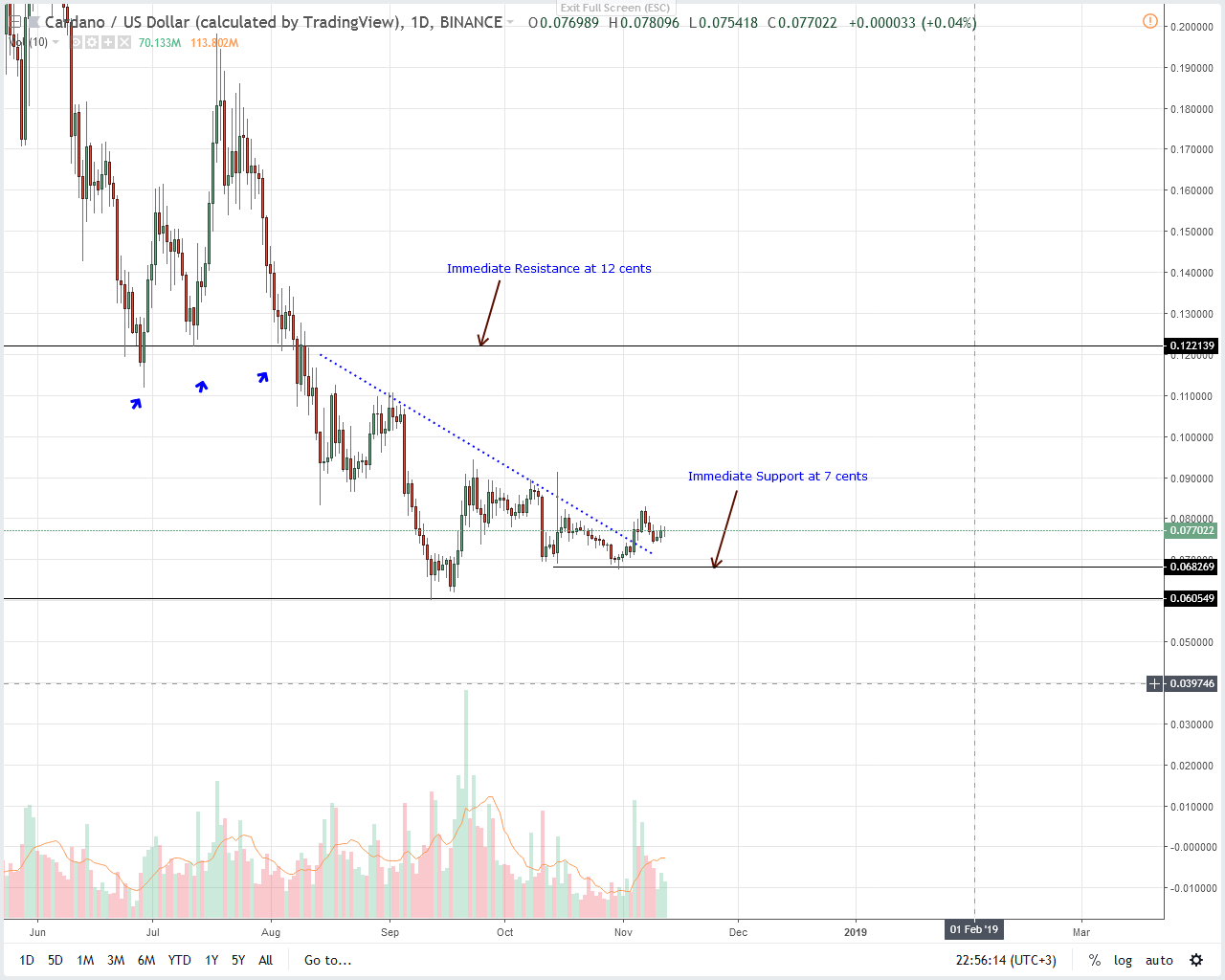 Technically, ADA/USD is trading within a bull break out pattern after impressive gains of Nov 4. And since prices did reverse right off the previous resistance now support trend line, we suggest trading just like as prescribed in our previous ADA/USD price analysis.
On every dip, aggressive traders should buy with stops at around 7.3 cents with modest first targets at 9.5 cents clearing Oct highs. Thereafter, it depends on how price action reacts at that price level because break outs would trigger conservative buys with targets at 12 cents.
XMR/USD Price Analysis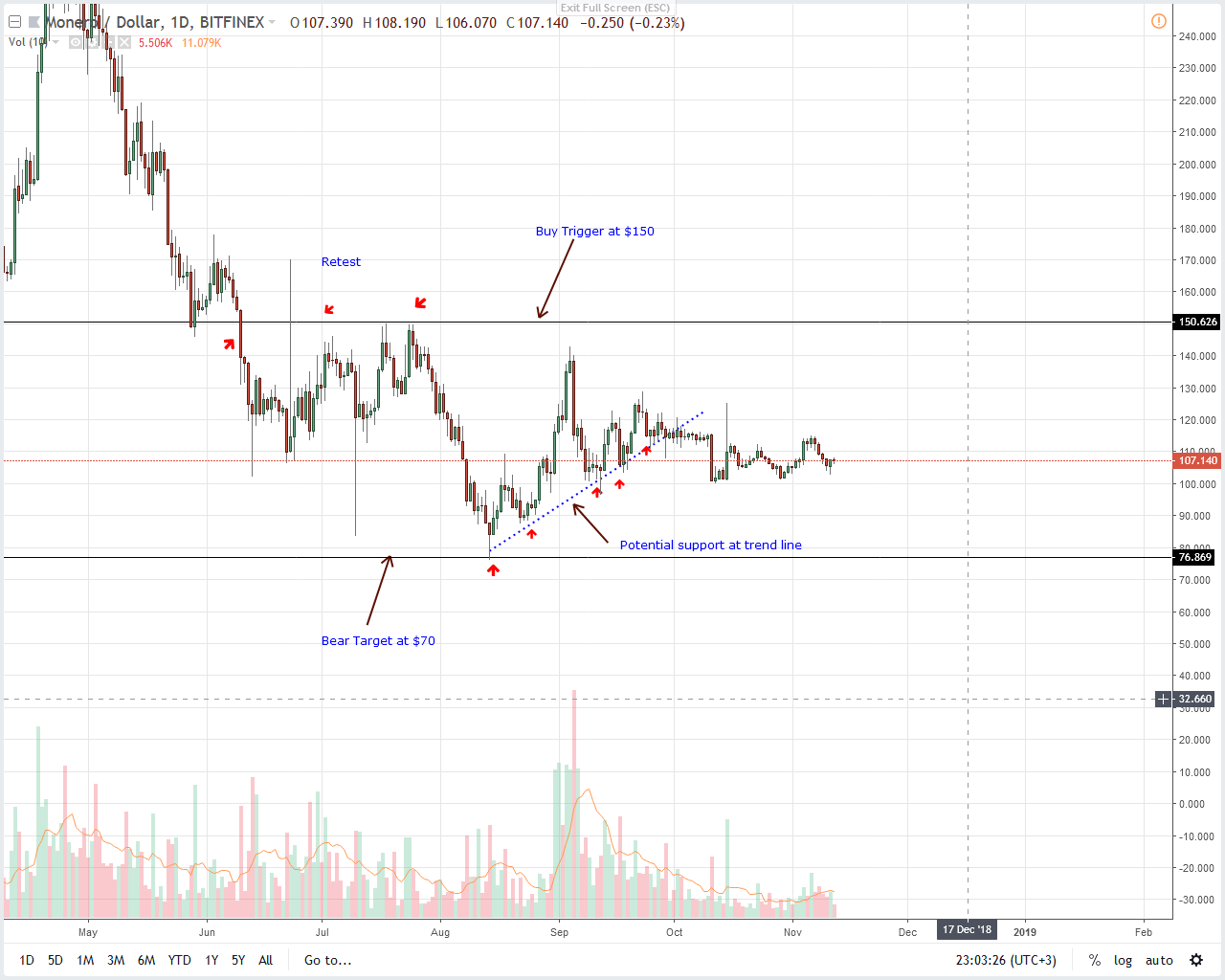 Still in the top-10, Monero is flat and ranging following Oct 11 and 15 counter movements. Though we remain upbeat expecting gains, losses of Oct 11 did trigger sells in a clear break out pattern. Because of this, we need to see strong price confirmations if bulls are indeed in control.
Also Read: Withdrawing Crypto to Fiat from BitFinex Now Costs Close to PayPal
Note that if XMR/USD declines below $100 our XMR/USD price projection would be null. In that case, further declines would trigger sellers aiming at $70. On the reverse side, it would be ideal if there are breaks above $120 and $130—on the safe side. That would be inviting for bulls aiming at $150 and later $300.
All Charts Courtesy of Trading View
Disclaimer: Views and opinions expressed are those of the author and aren't investment advice. Trading of any form involves risk and so do your due diligence before making a trading decision.
Author: Dalmas Ngetich

Source link